Recycled Sea Life Creatures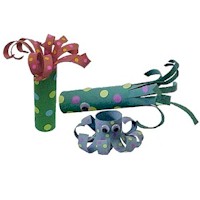 Print This Craft
Show kids how to make Recycled Sea Life Creatures from recycled cardboard tubes. At the same time you will be teaching them that recycled materials make great craft supplies.
Books you might like to read:
Three By the Sea by Edward Marshall
Sea Monsters by Mary Pope Osborne and Natalie Pope Boyce
Supplies
Empty Paper Towel Tube
Tacky Glue
Paint and Brush
Two Wiggle Eyes -- 20mm
Scissors
Hole Punch
Construction Paper
Instructions
To make octopus legs, squid or anemone tendrils cut strips down one side of a paper towel tube. Bend or curl the pieces around a fat marker.
Trim. Paint. Glue on wiggle eyes.
Punch out hole holes and glue on to decorate.
Contributor

Terri Bose of MakingFriends.com
Terri is the creator of makingfriends.com, freekidscrafts.com, scoutswaps.com and badginabag.com. Her work is republished all over the internet and is considered the queen of kids crafts.