Cardboard Tube Rocket Ship Craft
Cardboard Tube Crafts, Cut and Paste Crafts, Early Elementary Craft, librarians, More Boys Crafts, More Girls Crafts, More School Crafts, parents, PreSchool Crafts, Space Crafts, teachers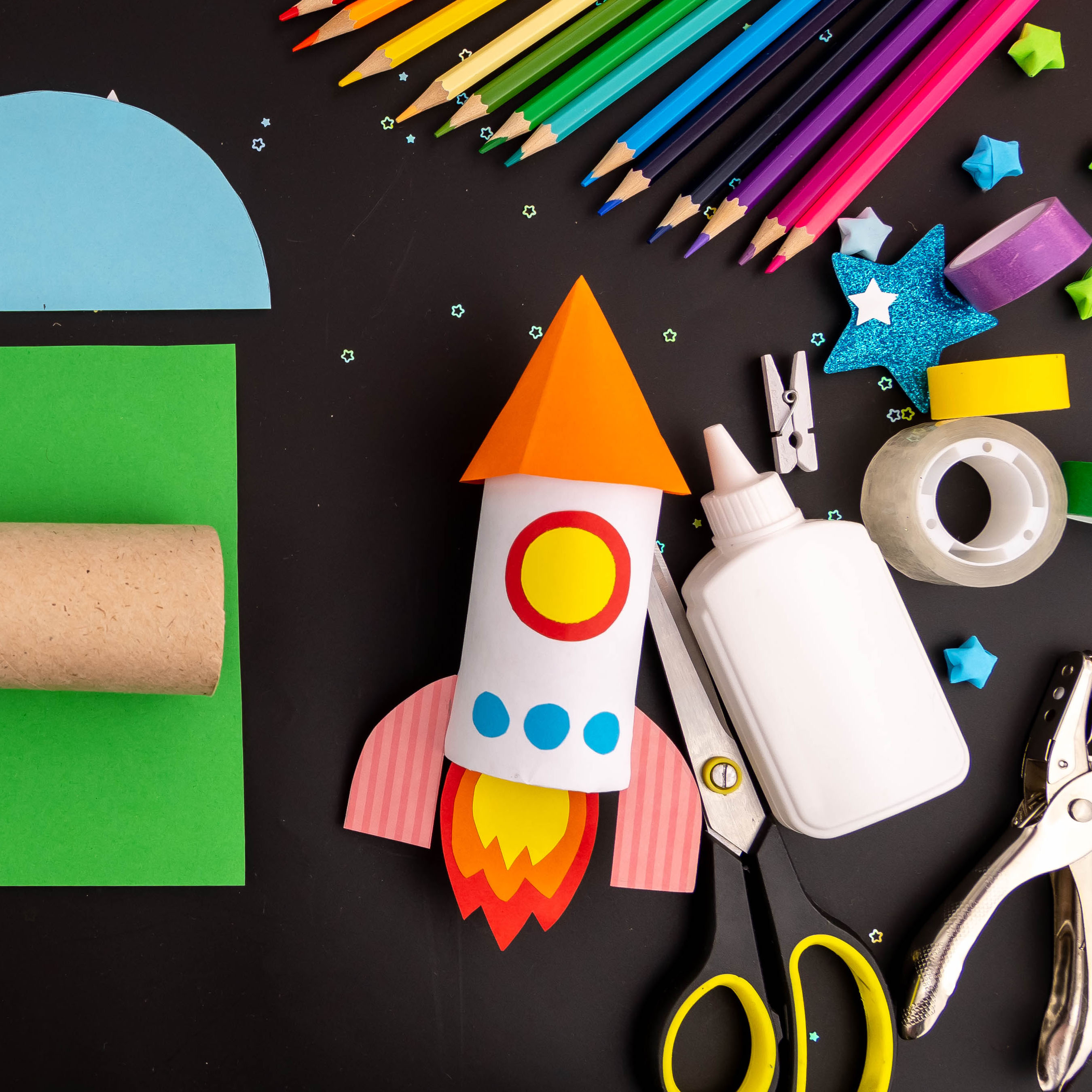 This Rocket Ship Craft is perfect for both boys and girls as space travel is in the forefront of everybody's mind. Today's young people look at space travel as a real possibility in their future and are excited to learn all there is to know as more and more information becomes available.
Trivia:
The space station has been continuously occupied since November 2000. An international crew of seven people live and work while traveling at a speed of five miles per second, orbiting Earth about every 90 minutes. In 24 hours, the space station makes 16 orbits of Earth, traveling through 16 sunrises and sunsets. Source: NASA – International Space Station Facts and Figures
Supplies
White Paper for pattern
Small Cardboard Tube
Construction Paper
Scissors
Glue
Tape
Hole Punch
Small Clothes Pins
Crayons, Markers or Colored Pencils (Optional)
Instructions
Print out the pattern on white paper
Using the picture as a reference, cut out the various parts from construction paper. Use the hole punch to create the small dot decorations. Don't be afraid to choose your own colors. If coloring your rocket, it is best to do it before cutting the pieces out.
Wrap the rectangle piece around the cardboard tube and tape in place.
Glue windows and decorations in place.
Bend the half circle piece in the shape of a cone and glue. Use the small clothespins to hold until dry.
While your cone is drying, cut slits on each side of the bottom of the rocket so you can slide the stabilizers in place.
Glue fire pieces together and attach to the stabilizer.
Place a thin line of glue around the top of the rocket body and add your nose cone and let dry. You are all set to let your imagination take you to outer space.
Patterns, Templates and Printables
Click on a pattern to open it in a new window to print


Award your kids with an inexpensive and colorful Space Adventure patch from MakingFriends.com. They can wear them, collect them or trade them.
Supplies
Instructions
Contributor

Sudbudz
Want to have some creative family time? Print out our SudBudz® Masks and get crafty with the kiddos! More than just a typical Fizzy Bath Ball, SudPrize® is a first ever line of skin-loving and natural bath products that make bath time Fun for Kids and Easy for Moms. A Free companion App, SudBudz® engages your children into an immersive world of special and unique characters called SudBudz®.
Tags rocket ship crafts