World's Best Mom Yarn Bug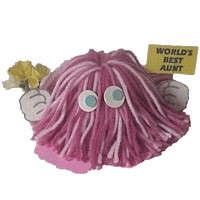 The World's Best Mom Yarn Bug will remind Mom every day that you really do love and appreciate all the things she does for you. We've also supplied you with a variety of signs so that you can adapt this cute little bug for lots of special people in your life.
Supplies
Red, White, & Pink Yarn
Egg Carton
Craft Foam, Stiffened Felt, or Card Stock
White Paper
Toothpicks
5" Square of Cardboard
Tacky Glue
Scissors
Dried Flowers (optional)
Instructions
Start by printing Bug Signs, Bug Feet, Bug Hands. Many inkjet printers will allow you to run stiffened felt. This will work good for the feet and hands. You can also use card stock. If using craft foam, print it on regular paper and staple it onto foam and trim around outlines. Use regular paper for the sign.
Make a pompon by wrapping yarn around 5" square of cardboard at least 100 times. Mix the yarn colors any way you would like. Cut a 6" piece of yarn and slide it under wrapped yarn. Tie tightly into a double knot. Turn cardboard over and cut completely through yarn on this side. Turn yarn blob sideways and smooth down strands.
Cut out 1 section of the egg carton. Trim so it sits securely upside down. Use tacky glue to glue the egg cup upside down on the feet. Cover the top and some of the sides of the cup with tacky glue. Separate the strands of the pompon to fit the egg cup up inside. Press pompon into place. Arrange yarn.
Make eyes out of foam or felt. Use tacky glue to attach eyes and hands. Fold sign in half and glue around toothpick. Glue to hand. Add flowers to other hand (optional).
Patterns, Templates and Printables
Click on a pattern to open it in a new window