Homemade Gift Bag Craft
Christmas Crafts, Decorating Crafts, Early Elementary Craft, Easter Crafts, Father's Day Crafts, Gifts to Make, Hanukkah Crafts, librarians, More School Crafts, Mother's Day Crafts, parents, Party Crafts, Recycled Paper Crafts, teachers, Teen Crafts, Valentine's Day Crafts
It's easy to make your own gift bags using wrapping paper or even newspaper. This is great for Mother's Day, Teacher Gifts, birthdays or any occasion. Make sure the gift is not so heavy that it tears the gift bag apart.
Trivia:
The earliest versions of gift wrap originate from the 1600s, when the Japanese introduced the furoshiki, a reusable wrapping cloth, into their gifting techniques. In Korea, the bojagi became another variation of the reusable gift fabric that many folk religions would turn to during the Three Kingdoms period. The idea of using these materials to wrap presents was a notion believed to bring recipients protection and good fortune. Source: Ribbon by Design – The Surprising History and Evolution of Gift Wrapping
Supplies
Wrapping paper or newspaper
Tape
Scissors
Box for shape
Ribbon
Hole Punch
Instructions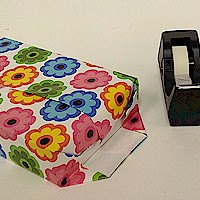 Any kind of paper. Any box. Wrap like a present leaving one end open. Be sure to tape securely so the bag doesn't open when the present is inserted.
Slide box out.
Gift goes inside fold down the top.
Punch holes.
Lace ribbon thru holes.
Tie a bow

Supplies
Instructions
Contributor

Sudbudz
Want to have some creative family time? Print out our SudBudz® Masks and get crafty with the kiddos! More than just a typical Fizzy Bath Ball, SudPrize® is a first ever line of skin-loving and natural bath products that make bath time Fun for Kids and Easy for Moms. A Free companion App, SudBudz® engages your children into an immersive world of special and unique characters called SudBudz®.