Valentine Yarn Love Bug Craft
Decorating Crafts, Early Elementary Craft, Gifts to Make, librarians, Mother's Day Crafts, parents, Party Crafts, teachers, Teen Crafts, Valentine's Day Crafts, Yarn Crafts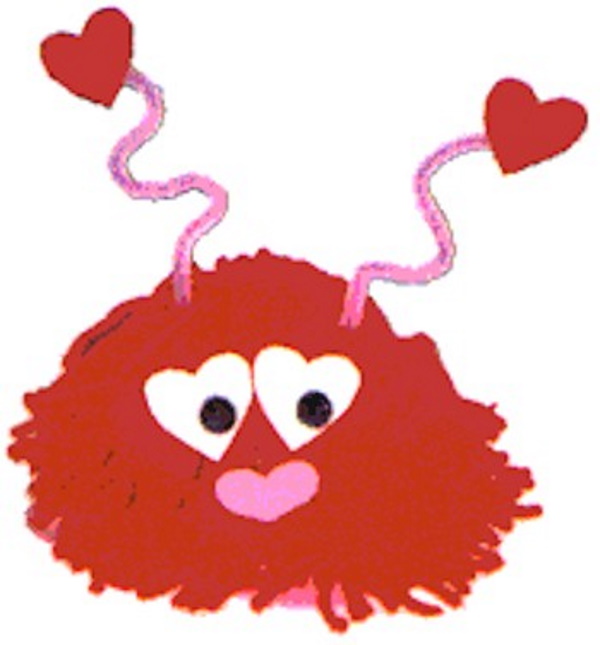 This Valentine Yarn Love Bug  is the perfect package topper, place card holder, gift for a friend and just fun to have around. Teens and Tweens will love making and collecting all the yarn bug creations. Once you do the first one, you'll want to male all of them. Get started now.
Trivia:
According to legend, if Cupid strikes someone with a gold arrow, they are filled with desire and love for their partner. If Cupid strikes them with a lead arrow, they fall out of love.  Source: Reader's Digest – 30 Valentine's Day Trivia Questions on All Things Love
Supplies
Red or Pink Yarn
Pipe Cleaner
Craft Foam or Felt
Empty Egg Carton or Styrofoam Ball
5″ Square of Cardboard
Tacky Glue
Scissors
Instructions
Make a pom pom by wrapping yarn around a piece of cardboard at least 100 times. Cut a 6″ piece of yarn and slide it under wrapped yarn. Tie tightly into a double knot. Turn floppy over and cut completely through yarn on this side. Turn yarn blob sideways and smooth down strands.
Bend a chenille stem in half and push it up through the pompom.
Cut out 1 section of the egg carton. Trim so it sits securely upside down. Cut a large heart (about 4″) out of craft foam. Use tacky glue to glue the egg cup upside down in the center of the heart. You can also use a Styrofoam ball. Cover the top and some of the sides of the cup with tacky glue. Separate the strands of the pompon to fit the egg cup up inside. Press pompon into place. Arrange yarn and bend chenille stems if desired.
Cut out two hearts for eyes and one for mouth. Cut out two small circles for pupils. Use tacky glue to secure in place.
Give love bug to someone you love for Valentine's Day and make another one for yourself!

Supplies
Instructions
Contributor

Sudbudz
Want to have some creative family time? Print out our SudBudz® Masks and get crafty with the kiddos! More than just a typical Fizzy Bath Ball, SudPrize® is a first ever line of skin-loving and natural bath products that make bath time Fun for Kids and Easy for Moms. A Free companion App, SudBudz® engages your children into an immersive world of special and unique characters called SudBudz®.
Tags yarn bugs