Inspirational Rock Craft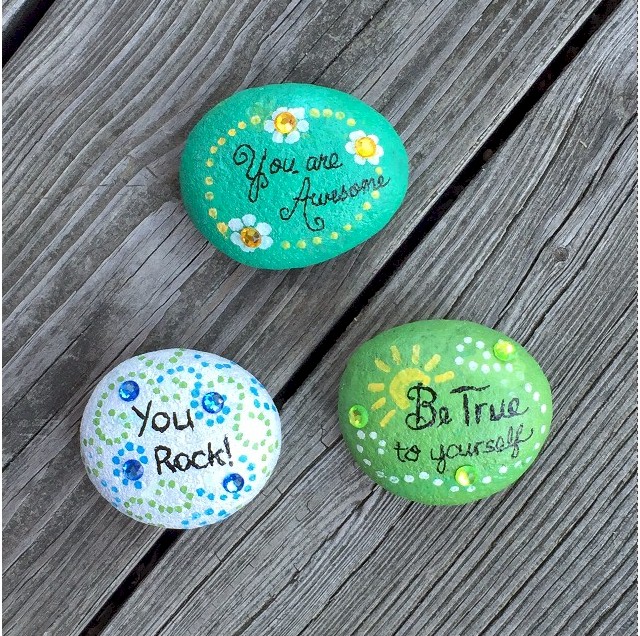 Kids can make Inspirational Rocks for themselves or for someone who may need a little boost in confidence. They can also play Rock Hide and Seek with them and leave them for anyone to stumble upon and brighten their day. It is a good project to remind them that kindness can be contagious and they should pass it on. It might be fun to make one for each of your neighbors especially the older ones to give a boost to their day.
Trivia:
Inspiration Definition: the process of being mentally stimulated to do or feel something, especially to do something creative. Source: Google Definition
Supplies
Medium sized stones with a flat surface top and bottom
Paint
Paint pen or permanent marker
Newspaper
Paintbrush
Instructions
Select stones that will provide a good surface for painting and a flat bottom so they will sit on a desk or table.
 Spread your work surface with newspaper to protect it.
 Wash stones and let dry completely.
 Pick a background color and paint the whole stone, let dry.
Use a paint pen or marker to write an inspirational thought
Then decorate with your paint pen or a small brush and paint.

Supplies
Instructions
Contributor

Sudbudz
Want to have some creative family time? Print out our SudBudz® Masks and get crafty with the kiddos! More than just a typical Fizzy Bath Ball, SudPrize® is a first ever line of skin-loving and natural bath products that make bath time Fun for Kids and Easy for Moms. A Free companion App, SudBudz® engages your children into an immersive world of special and unique characters called SudBudz®.