Rock Hide and Seek Craft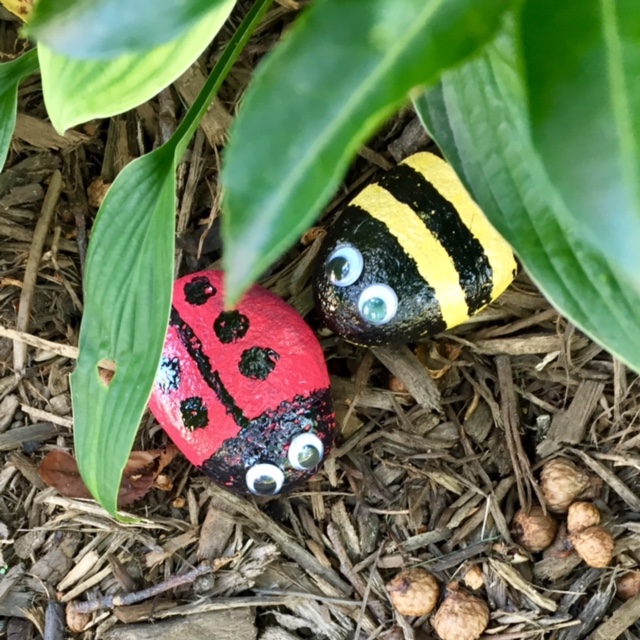 A new fun activity for young and old alike is springing up around the country which I will call Rock Hide and Seek. I don't know if it has another name but the idea is for people, adults and children, to paint small rocks and leave them for someone else to find and enjoy. Hopefully that person will hide them some place else and maybe add a few of their own to brighten another person's day. It's also a cute idea for a party game where young children can collect them like Easter Eggs. We have a couple of samples for you, but feel free to experiment and let your creativity flow.
The supply list varies depending on their intended life span. if it is a fun afternoon craft for small children keep it simple, If it is a project for older kids and adults you should use oil based paint like paint pens and seal them with outdoor Mod Podge and use E6 glue or similar for lasting quality. Google them and see what is happening in your area.
Supplies
Clean Rocks
Craft Paint
Paintbrushes
Wiggle Eyes (optional)
Hot Glue (optional)
Instructions
Select smooth rocks suitable for painting; creeks and rocky beaches are great for this if you are lucky enough to live near them. The constant running water makes them smooth. Make sure they are clean and dry before painting.
You decide if you want a theme. We selected a ladybug and bumblebee for today's project but you can do whatever makes you happy.
After the painting is complete and dry, glue on the wiggle eyes if you want them and find some places in your park or along a walkway where people will find them.
There are a number of websites around the country that have joined in the fun so check to see if your area has one.
Happy Hunting.

Supplies
Instructions
Contributor

Sudbudz
Want to have some creative family time? Print out our SudBudz® Masks and get crafty with the kiddos! More than just a typical Fizzy Bath Ball, SudPrize® is a first ever line of skin-loving and natural bath products that make bath time Fun for Kids and Easy for Moms. A Free companion App, SudBudz® engages your children into an immersive world of special and unique characters called SudBudz®.
Tags rock crafts