Patriotic Seashell Craft
Decorating Crafts, Early Elementary Craft, Gifts to Make, More Boys Crafts, Nature Crafts, Ocean Crafts For Kids, parents, Patriotic Crafts, PreSchool Crafts, Summer Crafts, Teen Crafts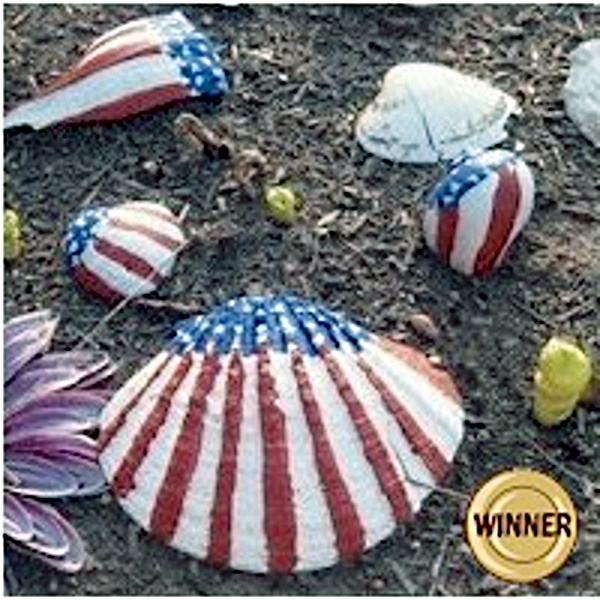 This Patriotic Seashell craft was provided by Joanne Scott a nurse from Culpepper, Virginia who loves to hunt for seashells rain or shine. What a great way to celebrate summer and our patriotic holidays…searching the seashore for the perfect shells for your patriotic display. Whether you are adding to your collection or creating a gift for a family member or friend, these seashells will have a favorite spot all year round.
Trivia:
Altho there are some species with shells that are always left opening, nine out of 10 shells open to the right. Because of their rarity, "shell collectors go crazy" for left opening specimens. Source: Mental Floss –  8 Fascinating Facts About Seashells
Supplies
Acrylic Paints: Red, White and Blue
Brushes
Clear Spray
Instructions
Search the beaches for shells of all shapes and sizes.
Clean well to get all the sand and grit off and let dry completely.
Brush on red white and blue colors of your own creation or use these as a model.
Let dry and spray with clear spray to preserve.

Supplies
Instructions
Contributor

Sudbudz
Want to have some creative family time? Print out our SudBudz® Masks and get crafty with the kiddos! More than just a typical Fizzy Bath Ball, SudPrize® is a first ever line of skin-loving and natural bath products that make bath time Fun for Kids and Easy for Moms. A Free companion App, SudBudz® engages your children into an immersive world of special and unique characters called SudBudz®.
Tags seashell crafts