Silly Weather Forecaster
Print This Craft
Everyone is an expert when you can state the obvious. We're not sure who came up with this Silly Weather Forecaster but it sure is fun to make when you are learning about the weather. Thanks Linda for showing me this one.
Trivia: Weather forecasts today depend on collecting and analyisng data and measurements from around the world. As amateurs we use Anemometers, Barometers, Hygrometers, Rain Gauges, Sundials, Thermometers, Windsocks, and Weather Vanes.
Supplies
Yarn
10mm Wiggle Eyes
Tacky Glue
Key Ring
Card Stock
Weather Saying
Large Piece of Cardboard
Hole Punch
Instructions
Wrap yarn about 25 times around the long side of the cardboard. Cut yarn at the edge. Slide a key ring to the middle of the yarn and fold in half. Smooth the yarn bundles together and tie tightly with a small piece of yarn about 1" from the key ring.
Separate into three sections and braid. Tie the bottom together with a piece of yarn. Click on Printables and print Weather Saying on card stock. Trim. Punch hole. Tie to ring with a piece of yarn.
Patterns, Templates and Printables
Click on a pattern to open it in a new window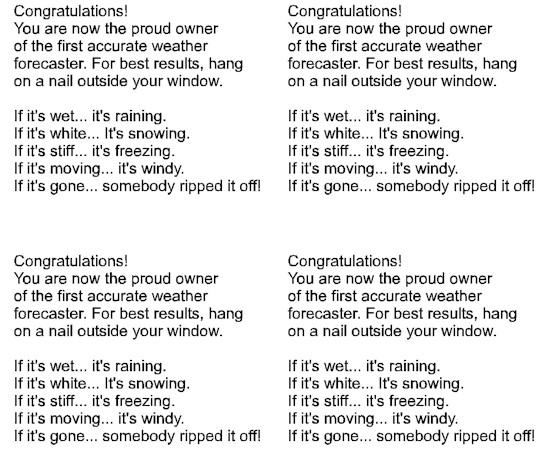 Contributor

Terri Bose of MakingFriends.com
Terri is the creator of makingfriends.com, freekidscrafts.com, scoutswaps.com and badginabag.com. Her work is republished all over the internet and is considered the queen of kids crafts.
Tags camp craftseasy kids craftskids craftsyarn crafts for kids