Recycled Pool Noodle Stamping Craft
Camp Crafts, Decorating Crafts, Dollar Store Crafts, Early Elementary Craft, Flower Crafts, More Boys Crafts, More School Crafts, parents, PreSchool Crafts, Repurposed Materials, Summer Crafts, teachers, Teen Crafts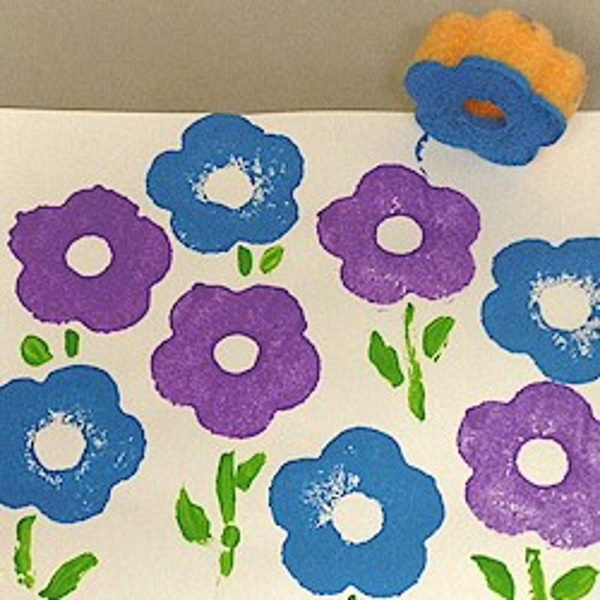 Eventually the old pool noodles need to be retired. What better use than recycling them into these great stamps! So when it's too hot or too cold or too whatever outside set the kids up with these simple materials to create their own masterpieces.
Trivia:
The history of rubber stamps actually dates back to 1844. The process of 'stamping' existed many years before this. Brass printing stamps were first used to mark paper; while brass stamps on the other hand were used with wax to 'seal' private papers with the crest of the owner. Source: Stamps Direct – The History of Rubber Stamps.
Supplies
Pool Noodle
Serrated Knife
Paint
Paper
Newspaper
Instructions
 Spread newspaper over your work surface
Use a serrated knife to cut 2″ slices of pool noodles.
For preschoolers make the pieces about 5″ so the child can get their fist around it.
Dip in paint and apply to paper.
Paint on stem and leaves

Supplies
Instructions
Contributor

Sudbudz
Want to have some creative family time? Print out our SudBudz® Masks and get crafty with the kiddos! More than just a typical Fizzy Bath Ball, SudPrize® is a first ever line of skin-loving and natural bath products that make bath time Fun for Kids and Easy for Moms. A Free companion App, SudBudz® engages your children into an immersive world of special and unique characters called SudBudz®.
Tags painting crafts