Tissue Paper Flower Bouquet
Decorating Crafts, Dollar Store Crafts, Early Elementary Craft, Flower Crafts, Gifts to Make, More School Crafts, parents, teachers, Teen Crafts, Tissue Paper Crafts, Valentine's Day Crafts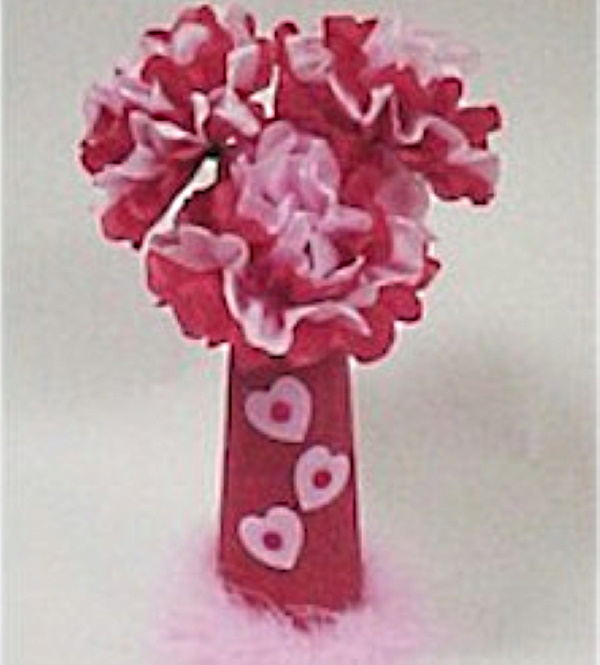 Make one single bloom or a whole bunch of flowers for this Tissue Paper Flower Bouquet to put in a special vase for Valentine's Day, Mothers Day or just because you want to. Tissue paper has long been a favorite material for making flowers and this is a great introduction to easy flower making.
Trivia:
Over three thousand years ago the Chinese started raising silkworms to make silk for cloth, medicine and artificial flowers for the very wealthy. Source:  enotes.com – What is the history of artificial flowers?
Supplies
Red and Pink Tissue Paper
Green Pipe Cleaners
Foamie Hearts
Heart Gemstones
Feather Boa
Cardboard Cone
Red Paint and Foam Brush
Tacky Glue
Scissors
Instructions
Instructions to Make Flowers:
Cut tissue paper into 5″ x 11″ pieces.
Stack four pieces in alternating colors.
Accordion fold back and forth in 3/4″ folds so you have a 3/4″ x 5″ bunch. Cut the ends rounded.
Pinch together the middle of the tissue bunch and twist a folded pipe cleaner tightly around it.
Fan out the folds of tissue.
Gently pull sheets apart starting at the top and shaping the flower as you go.
Instructions to Make Vase:
Paint cardboard cone red. Let dry.
Decorate by gluing on foamie hearts and heart gemstones.
Cut a piece of feather boa and glue around the bottom.
Push the stems into the top of the cone. You may have to cut the top off the cone to make more room.

Contributor

Sudbudz
Want to have some creative family time? Print out our SudBudz® Masks and get crafty with the kiddos! More than just a typical Fizzy Bath Ball, SudPrize® is a first ever line of skin-loving and natural bath products that make bath time Fun for Kids and Easy for Moms. A Free companion App, SudBudz® engages your children into an immersive world of special and unique characters called SudBudz®.