Decoupage Sneakers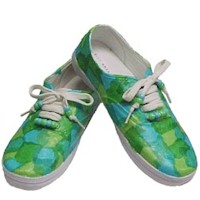 How cool are these Decoupage Sneakers? Use the right decoupage solution and they will stay looking good months and months. Why pay hundreds of dollars to look like someone else. Be a trendsetter and create your own unique designs on an inexpensive pair of white sneakers and pennies on tissue paper.
Trivia: The first  sneaker was created in 1800, as a simple rubber-soled shoe. The nickname "sneakers" came about because they were so quiet; they even came to be used by thieves in their sneaking.
Supplies
Canvas Sneakers
Tissue Paper
Outdoor Mod Podge
Pony Beads
Foam Brush
Instructions
Choose your colors of tissue paper. Tear off the straight edges. Tear the paper into irregular 1" pieces.
Beginning at the toe along the sole, brush on the decoupage solution.
Lay tissue pieces selecting pieces that fit along the curve of the sole. Overlapping edges to create interesting color combinations.
Brush on a top coat of outdoor decoupage solution. Cover the sneakers completely. Let dry thoroughly. Multiple coats will give you better protection.
String beads on the laces to decorate.
Contributor

Terri Bose of MakingFriends.com
Terri is the creator of makingfriends.com, freekidscrafts.com, scoutswaps.com and badginabag.com. Her work is republished all over the internet and is considered the queen of kids crafts.