Gone Fishin Door Hanger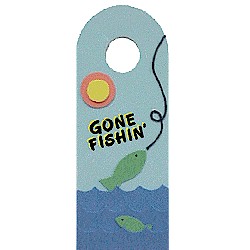 This is the perfect gift to make for the Dad who likes to go fishing. He can hang it on his door when he wants a few moments to himself whether he goes fishing or just dreams about it.
Supplies
Pattern for Dad's Door Hanger
Light Blue Foam Door Hanger
Orange, Yellow, Green and Dark Blue Craft Foam
Under the Sea Foamie Stickers (optional)
Tacky Glue
Scissors
9" Black Satin Cord
Black Paint Pen
Instructions
Click on Printables and print out the pattern pieces.
Staple to craft foam, stapling all around the outside of the cutting lines. Cut out pieces.
Assemble using picture above as a guide.
Glue on string  coming out of the mouth of the fish.
Use paint pen to write "Gone Fishin' ".
This craft is reprinted courtesy of MakingFriends.com where you can also order the supplies on line if you want to.
Patterns, Templates and Printables
Click on a pattern to open it in a new window
Contributor

Terri Bose of MakingFriends.com
Terri is the creator of makingfriends.com, freekidscrafts.com, scoutswaps.com and badginabag.com. Her work is republished all over the internet and is considered the queen of kids crafts.