Dragon Eggs
Decorating Crafts, Dragon and Dinosaur Crafts, Early Elementary Craft, Easter Crafts, European and Russian Crafts, Food Crafts, Gifts to Make, More Boys Crafts, More School Crafts, parents, Party Crafts, Spring Crafts, teachers, Teen Crafts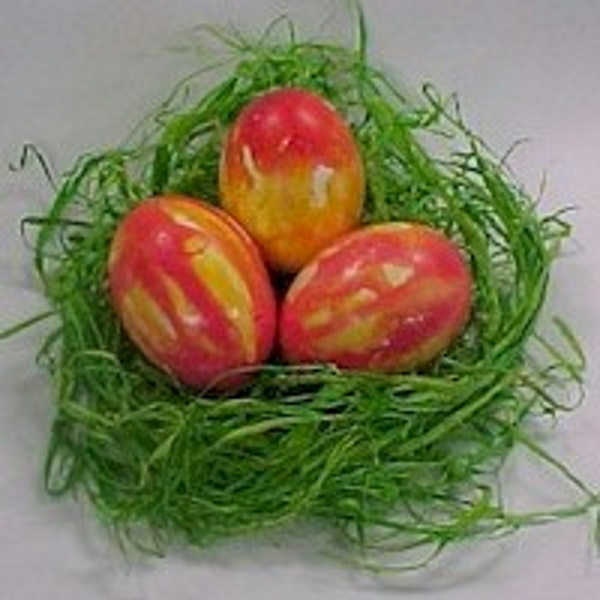 These Dragon Eggs look so hot, you would expect a dragon to hatch out of them. Thanks go to  grandaughter Jamie for coming up with this idea. There are so many different ways to prepare Easter eggs and it is always fun to try something new. This is a great craft for any time of year while studying dragons and dinosaurs as well as a unique Easter Egg variation.
Trivia: 
The Easter bunny reportedly was introduced to America by the German immigrants who brought over their stories of an egg-laying rabbit with them. The coloring and decoration of eggs is believed to date back to at least the 13th century.
Supplies
Hard Boiled Eggs
Yellow and Red Food Coloring
White Vinegar
Small Glass Bowl
Spoon
Cooking Oil
Instructions
To make these Dragon Eggs, first boil the eggs.
Pour 1/2 cup of vinegar in small bowl. Gently roll the egg in the vinegar and remove. Do not dry egg but set it back into the egg carton or other holder.
Drop several drops of red food coloring on the top of the egg and and let it drip down the side. While still wet drip yellow food coloring in the spaces where the egg is still white. Let dry.
Use a little cooking oil on a paper towel to polish eggs.

Supplies
Instructions
Contributor

Terri Bose of MakingFriends.com
Terri is the creator of makingfriends.com, freekidscrafts.com, scoutswaps.com and badginabag.com. Her work is republished all over the internet and is considered the queen of kids crafts.