Tissue Paper Valentine Pin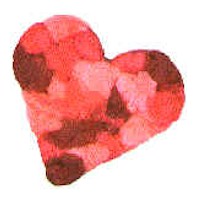 What better way to show love than to make a Tissue Paper Valentine Pin for Mom and Grandma. I still have mine in my jewelry box, as precious as any gem.
Supplies
Tissue Paper in 2 or 3 Colors
White Glue
Plastic Cookie Cutter
Heavy Paper or Felt
Jewelry Craft Pins
Petroleum Jelly
Scissors
Plastic Plate
Disposable Bowl
Microwave Oven
Low Temp Glue Gun
Instructions
Trace around the inside of the cookie cutter on felt or heavy paper. Cut out.
Coat the inside of the cookie cutter with petroleum jelly. Place it on a plastic plate also coated with petroleum jelly. Fit the cut out shape inside the cookie cutter pushed down to the bottom.
In a disposable bowl, dilute white glue with an equal amount of water.
Tear tissue paper into 1" squares. Dip each piece into the glue solution and crumple up into a tight ball. Tightly arrange crumpled pieces in a single layer at the bottom of the cookie cutter, pressing it flat with your finger tip. Microwave for one or two minutes on high. Let cool. Pop out of mold. Tissue paper is now permanently adhered to cut out shape. Let dry overnight.
Tissue paper will be very hard. Glue pin onto back.
Contributor

Terri Bose of MakingFriends.com
Terri is the creator of makingfriends.com, freekidscrafts.com, scoutswaps.com and badginabag.com. Her work is republished all over the internet and is considered the queen of kids crafts.