Make A Hearts and Flowers Magnet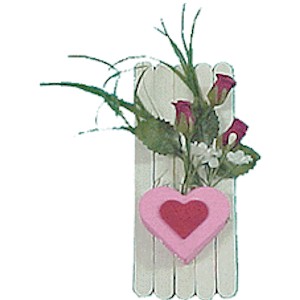 Show the kids how to Make A Hearts and Flowers Magnet as a gift for a special family member or friend. Everyone thinks that Valentine's Day is for Love and Romance, but Love has no limits. This special handmade magnet is the perfect way to show someone how much they mean to you.
Supplies
5 Craft Sticks
2 Large Heart Woodsies
1 Small Heart Woodsie
2 Small Rectangle Woodsies
White, Pink and Red Paint or Paint Markers
Silk or Dried Flowers
Moss
Large Magnet
Low Temp Glue Gun
Instructions
Paint 5 craft sticks white. Paint both sides of 2 large hearts and 2 small rectangles pink. Paint 1 small heart red. Let dry.
Cut a piece of magnet 1-3/4" x 3-1/2". Line up the five craft sticks and glue magnet to the back.
Place 1 large pink heart on your work surface. Run a bead of hot glue down one straight side of the heart. Set a pink rectangle on the glue at a 90º angle. Do the same for the other side making sure rectangles meet together at the bottom point of the heart.
Glue a heart on top of the rectangles. You should now have a three dimensional heart with an opening at the top. Glue this to your white craft stick magnet and glue the small red heart to the front as shown in photo.
Glue flowers inside the heart tuck in a bit of moss.
Contributor

Terri Bose of MakingFriends.com
Terri is the creator of makingfriends.com, freekidscrafts.com, scoutswaps.com and badginabag.com. Her work is republished all over the internet and is considered the queen of kids crafts.
Tags craft stick crafts for kidsvalentine crafts for teensvalentine gifts for kids to make