Recycled Tee Shirt Pillow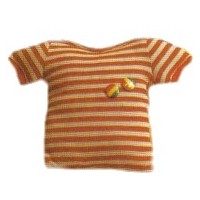 For this Recycled Tee Shirt Pillow you can use old t-shirts that are in good condition that you may have out grown or accidentally shrunk in the wash. Or perhaps its a t-shirt of a loved one who is away. If you are making this project in a large group you can obtain the t-shirts from your local thrift shop. With a little creativity these Tee Shirt Pillows could be a fund raising project.
Supplies
Old T-shirt
Filling
Needle and thread or craft glue
Instructions
Start by laying out the shirt flat on a table. You can either sew the edges or glue them the choice is yours. Stitching will be more durable but for kids or a quick craft you can just glue the seams.
Glue or stitch the bottom of the shirt and the arm holes closed.
Leave the neck area open for the filling. A soft fiber fill stuffing will work well, but you can use other items such as beans, foam chunks or old rags.
Gently fill the shirt until it is nice and plump looking, then either glue or sew the neck hole closed with small stitches.
For a fun effect add some badges to the t-shirt pillow.
You can also make a Tee Shirt Backpack.
This craft reprinted courtesy of craftbits.com/
Contributor

CraftBits
Our website was created by a mother and daughter team, adding a unique combination of crafting qualities and expertise of creativity. We started our website after numerous years in the area of craft, teaching, retail craft and owning a gift store. We decided to launch it to provide resources for teachers, therapists, and craft enthusiasts in the year 1999. Since then, the website has grown tremendously in terms of content and resource information.