DIY Cork Spirograph Coasters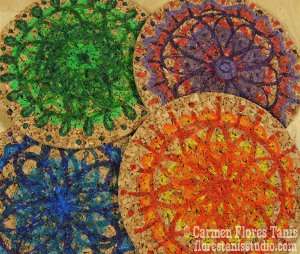 Remember Spirographs? Well pull them out from the back of the toy closet and make these DIY Cork Spirograph Coasters for the next family party or to give as fun gifts.
Trivia:  In 1962 British electronic engineer Denys Fisher invented Spirograph. in 1962  He was working for the Noth Atlantic Treaty Organization designing and researching bomb detonators and worked in England for a family owned business.  In the process of applying one of his inventions to the industrial world, members of his family caught on to the interesting patterns that occurred and  marketed the product as a game.  Spirograph became popular as a toy in 1965. Source : Softgame.net – History of Spirograph Puzzle Games
Supplies
Small Spirograph gear drawing tool
Pack of four cork coasters
Cardboard
Large plastic lid (I got mine from a large empty container of nuts)
Ribbon, twine or paper twist
Assorted permanent markers and paint pens (make sure they are permanent or waterproof so the colors won't run when someone sets a drink on the coasters)
Paper tape
Scissors
Instructions
Use pieces of tape to attach the larger part of the spirograph tool to a cork coaster. This will keep the piece from slipping as you draw.
Use a marker or paint pen in the smaller gear to draw a design on the cork. Work slowly because the gear has a tendency to jump and skip teeth. Also work from the lightest color to the darkest – that will help keep the colors from becoming muddy.
Add more colors.
Once you're done with the spiral flowers, add finishing details.
You're on a roll! Decorate all the coasters in the pack.
Other Images
Contributor
Logo
Bio
Supplies
Instructions
Contributor

Sudbudz
Want to have some creative family time? Print out our SudBudz® Masks and get crafty with the kiddos! More than just a typical Fizzy Bath Ball, SudPrize® is a first ever line of skin-loving and natural bath products that make bath time Fun for Kids and Easy for Moms. A Free companion App, SudBudz® engages your children into an immersive world of special and unique characters called SudBudz®.