Valentine Stenciled Gift Box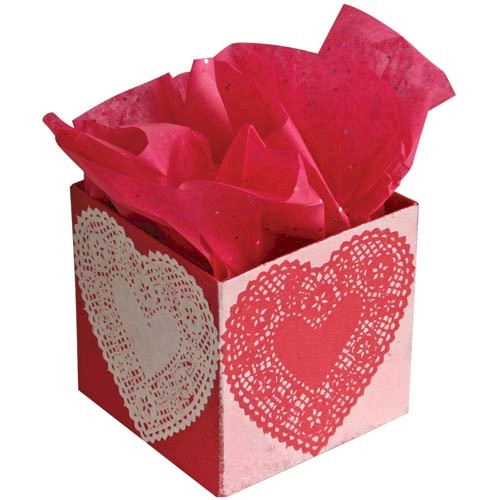 Make your own Valentine Stenciled Gift Box for the special gift for Mom or Grandma or a special friend. They will really enjoy the extra effort you put into the project.
Supplies
Scissors
Glue
Acrylic Paint (Works Best) or Tempera
12x18 Red Construction Paper
Instructions
Cut one piece of 12x18" construction paper in half lengthwise (it will measure 6x18"). Starting at the left edge, glue four 4x4" pieces of chipboard to the paper, with a 1/8" space between to create the sides of the box. Center the chipboard vertically.
Cut 1/8" notches in the construction paper at both the top and bottom to make tabs. There should be a notch at each space between the pieces of chipboard. Trim right side to measure 1/2".
Fold top tabs over chipboard and glue.
Fold bottom tabs at a 90° angle. Using a fifth piece of chipboard, glue the tabs in place to make the bottom of the box.
Fold the side tab and glue in place.
While holding a heart doilie on the side of the box, dab acrylic over it with the bristle brush to stencil the design. Repeat on all sides with different shades of pink and lavender.
Optional
Glue a doilie on one or two sides if you want white designs.
Other Images
Click on an image to open it in a new window
Contributor

United Art & Education
United Art & Education offers over 150 Free Project ideas for the art classroom or at home.  Discover a unique selection of products that make learning creative and fun! Choose from teaching resources and decorations, early learning items, and a range of art materials for art educators and students, plus some great gifts.
Tags valentine crafts for teensvalentine gifts for kids to make