Printable Easter Buddies Paper Dolls
Cut and Paste Crafts, Easter Crafts, librarians, More Girls Crafts, More Printables, More School Crafts, Paper Dolls, parents, Party Crafts, PreSchool Crafts, teachers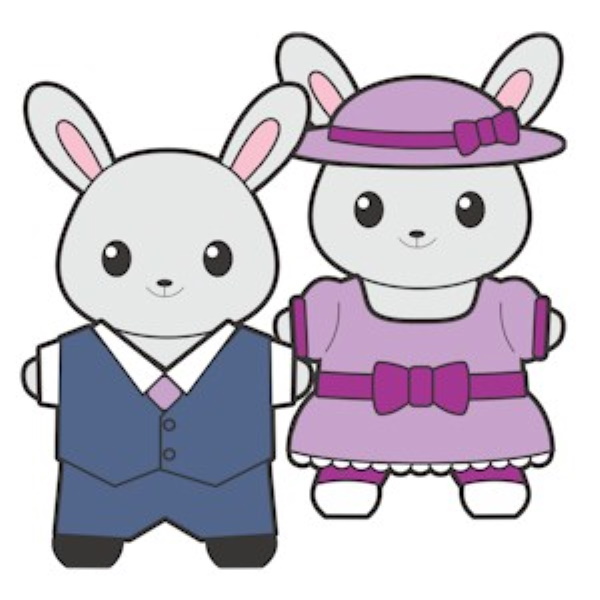 The Easter Buddies Paper Dolls are all dressed up in their Easter finery. The kids will have fun dressing their favorite Buddy Paper Doll in the colored outfit we have provided or selecting their own colors for the black and white version. Let the kids have fun inviting all of their Buddy Paper Dolls to celebrate Easter in colorful outfits.
Trivia: 
Paper dolls have been around as long as there has been paper. Faces or other objects were applied to the paper and they were used during religious rituals and ceremonies in the Asian cultures many centuries ago. In Europe, particularly France, the first paper dolls were made during the mid-18th century.
Supplies
White Paper
Buddies Paper Dolls Black & White or Color
Printer
Scissors
Glue Sticks
Crayons, Markers or Colored Pencils (optional)
Instructions
These Printable Easter Buddies Paper Dolls are easy to make and help the little ones to have fun practicing their cutting skills.
Print out the color or black and white version of the Buddies Easter clothes. If the kids are coloring their clothes, have them color them first. It makes it easier.
Then print out their favorite Buddies Paper Dolls to dress for Easter. Print out and color and cut.
 Glue the clothes to the paper dolls and let the kids have fun creating their own Easter parade.
 Go to the related crafts and click on the color or black and white buddies paper dolls to select your favorite buddy to dress for Easter.
Patterns, Templates and Printables
Click on a pattern to open it in a new window to print

Patterns, Templates and Printables
Click on a pattern to open it in a new window
Tags Easy Easter crafts for kidsEasy Easter crafts for preschoolersprintable paper dolls