Colorful Tissue Paper Easter Egg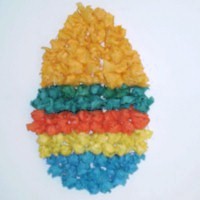 Get ready for Easter with this easy Tissue Paper Easter Egg. You can decorate it with a cross, a flower or a bunny or just leave it plain. It's your egg, you get to do it your way.
Supplies
Egg Pattern
Small patterns (optional)
Tissue Paper in colors of your choice
Glitter or Markers
Scissors
Paper Plate
Glue
Newspaper
Instructions
Click on Printables and cut out the pattern.
Lay it on newspaper to protect your crafting surface.
Cut tissue paper into approximately 2 inch squares. They don't have to be perfect.
Put a puddle of glue on the paper plate.
Crumple the tissue paper into balls, dip in the glue and affix to the pattern.
If you like, cut out one of the small patterns and decorate with glitter or markers and affix to the finished egg. 
Patterns, Templates and Printables
Click on a pattern to open it in a new window