Melted Crayon Beetle Window Hanger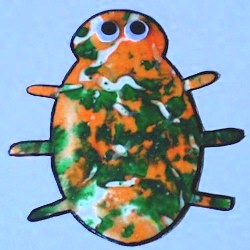 Print This Craft
Bugs may be creepy crawly, but these Bug Window Hangers are lots of fun and a great way to recycle bits and pieces of old crayons.
Supplies
Waxed Paper
Bits of crayon
Warm iron (under adult supervision)
Scissors
Fishing line
Tacky glue (optional)
Wiggle eyes (optional)
Instructions
Click on Printables and print out bug pattern or create your own.
Place a piece of wax paper over bug pattern. Sprinkle crayon shavings (sparingly!) on wax paper following the design on the download.
Place another piece of wax paper on top of shavings and a blank sheet of paper or a cloth over that. Gently press down with a warm iron. Crayon will melt quickly.
Staple pattern to the crayon melted wax paper outside of the design area and cut out. This may be enough for the littlest crafters.
We decided to go the next step to make it even more dramatic and a little more challenging for the older kids.

We outlined the wax bug with a fat black permanent marker. We had to go over it twice to make it show up on the waxed paper.
Then we glued on two wiggle eyes with tacky glue.
Finally we punch a hole in it and strung it up with filament or fishing line so you can hang it in the window and let the sun shine through.
Contributor
Cucicucicoo: Eco Sewing and Crafting
Cucicucicoo: Eco Sewing & Crafting proposes all sorts of DIY projects to creative minds of all ages who love to make things without harming the environment. Repurposing materials is a great way to save the Earth while expressing yourself though all types of creative means! Come check out the tutorials for kids and adults at Cucicucicoo.com!