Hand and Footprint Bluebird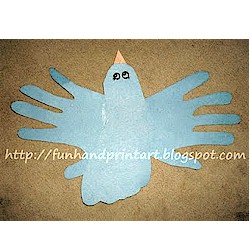 Kids love to see the birds that arrive with the spring and summer weather. Help them capture their favorite birds with a Hand and Footprint Bluebird project.
Supplies
Blue Construction Paper
Scissors
Black Fine Point Marker
Scrap of Orange or Yellow Construction Paper
Glue Stick
White Construction Paper (Optional)
Markers, Crayons or Colored Pencils (Optional)
Instructions
Trace around both of your child\'s hands & one foot and cut out.
Glue the hands to the back of the foot to create wings making sure that the heel of the foot is in the head position. Use the picture for reference.
Draw on eyes and add a beak cut from a scrap of yellow or orange construction paper.
Your kids are sure to have fun flying this adorable bird around the house!
You can also make this project with white paper and color in the different birds that the kids see in their own backyard.
This project is reprinted courtesy of Handprint and Footprint Art.
Contributor

Handprint and Footprint Art
Amanda (a.k.a. Artsy_momma) of Handprint & Footprint Art is dedicated to teaching creativity and encouraging imagination in children. You will find craft ideas for creating handprint, footprint, and fingerprint art- everything from keepsakes to holiday art as well as just for fun crafts!