Easy Insect Hotel for Children to Make
Bugs and Insect Crafts for Kids, Early Elementary Craft, Earth Day Crafts, More Boys Crafts, More School Crafts, parents, PreSchool Crafts, Recycled Containers and Lids, teachers, VBS Bayou Crafts, VBS Camp Out, VBS Jungle Crafts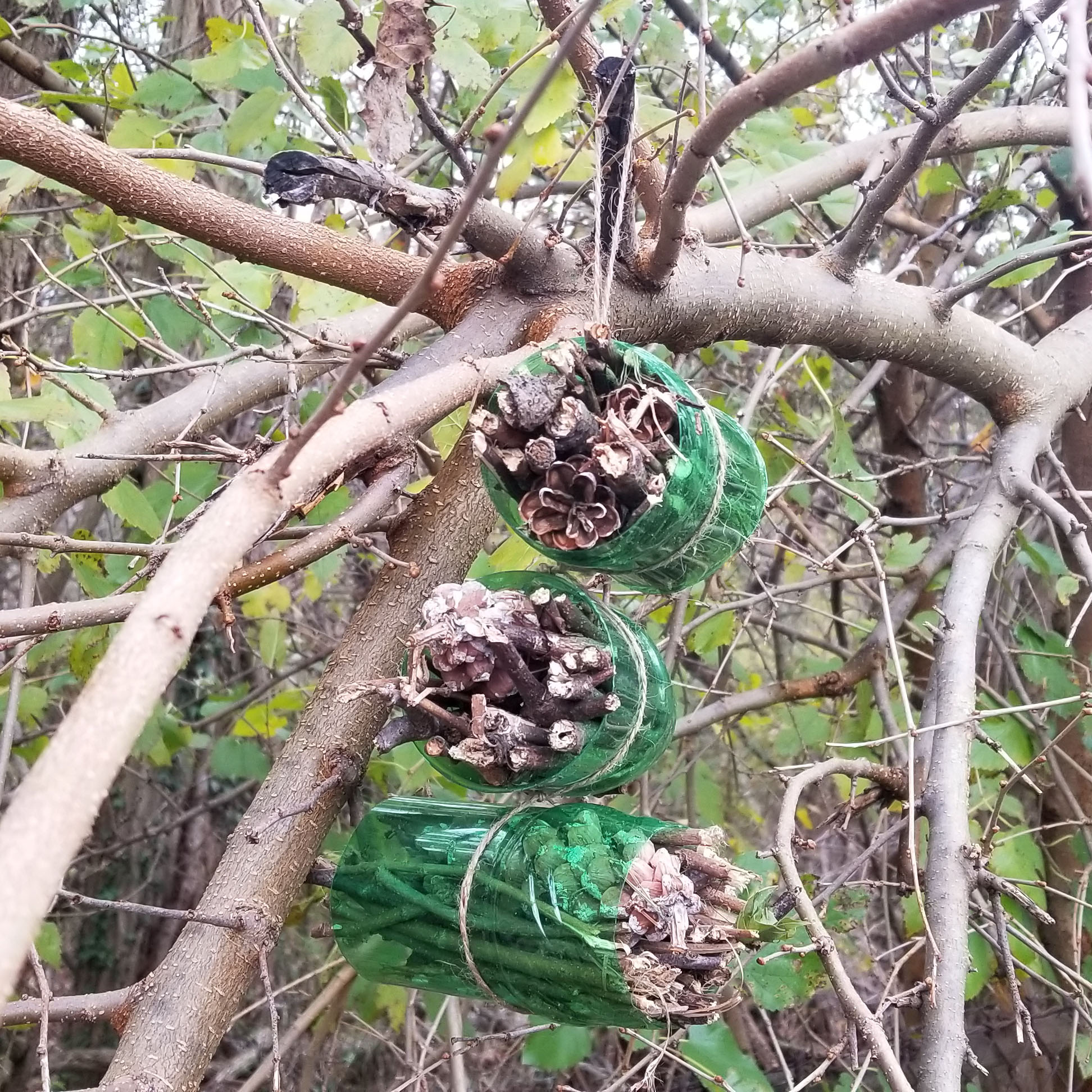 This easy Insect Hotel is the perfect way for children of all ages to create a habitat for all the bugs and insects that they love to find on their explorations into nature. The materials should be things that you find in your own environment like twigs, bark, broken pots small rocks etc. This Insect Hotel is a good way to get boys involved, but don't discount the girls. My youngest daughter has a family nickname, "Bugs", that has followed her into adulthood.
Trivia:
Did you know insects are important to keep the populations of other insects in balance, decompose dead material, return nutrients to the soil, clear waste from other animals, and pollinate flowers so humans and animals have food. Source: Study.com – Insect Habitats: Facts, Characteristics & Types
Supplies
Large Plastic Soda Bottle
Scissors
Twine
Twigs, bark, broken pot shards, small pine cones etc.
Instructions
Cut top and bottom portion of bottle off so that all that is left is the cylinder of the bottle.
Cut that cylinder in half
Stuff the cylinders with twigs and other materials so that you have created lots of nooks and crannies. Stuff them fully so they don't blow around too much.
Tie twine around the bottle and hang it where it is kept fairly stable.
You can also secure one on the ground between two supports like bricks to see what different kinds of bugs you will find on the ground.

Supplies
Instructions
Contributor

Sudbudz
Want to have some creative family time? Print out our SudBudz® Masks and get crafty with the kiddos! More than just a typical Fizzy Bath Ball, SudPrize® is a first ever line of skin-loving and natural bath products that make bath time Fun for Kids and Easy for Moms. A Free companion App, SudBudz® engages your children into an immersive world of special and unique characters called SudBudz®.
Tags easy kids crafts