Pom Pom Frog Craft
Early Elementary Craft, More Boys Crafts, More School Crafts, parents, Pom Pom Crafts, PreSchool Crafts, Reptile and Amphibian Crafts, teachers, VBS Bayou Crafts, VBS Jungle Crafts, VBS Rainforest Crafts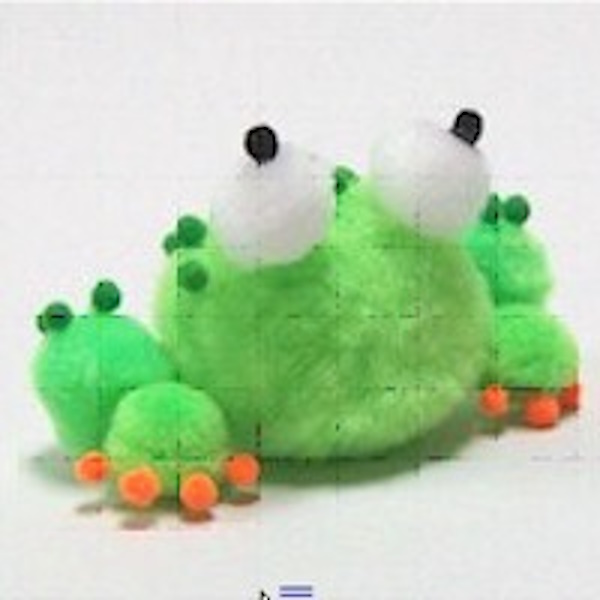 This hippity hoppity Pom Pom Frog designed by the FreeKidsCrafts Team is fun and easy to make. This frog is a pet that requires little or no care.
Trivia:
Frogs have excellent night vision and are very sensitive to movement. The bulging eyes of most frogs allow them to see in front, to the sides, and partially behind them. When a frog swallows food, it pulls its eyes down into the roof of its mouth, to help push the food down its throat. Source: American Museum of Natural History – Frog Fun Facts
Supplies
One 1 1/2″ Green Pom Pom
Two 3/4″ Green Pom Poms
Two 1/2″ Green Pom Poms
Two 1/2″ White Pom Poms
Two 3/16″ Black Pom Poms
Eight 3/16″ Orange Pom Poms
Twenty 3/16″ Green Pom Poms
Craft Glue
Instructions
Glue a 1/2″ green pom pom to a 3/4″ green pom pom. Glue a set to either side of the 1 1/2′ green pom pom.
Glue two white pom poms to the top for eyes.
Glue on four orange pom poms to each foot for toes.
Glue on a black pom pom to each eye.
Glue the small green pom poms to the back for warts.
Have fun.

Supplies
Instructions
Contributor

Sudbudz
Want to have some creative family time? Print out our SudBudz® Masks and get crafty with the kiddos! More than just a typical Fizzy Bath Ball, SudPrize® is a first ever line of skin-loving and natural bath products that make bath time Fun for Kids and Easy for Moms. A Free companion App, SudBudz® engages your children into an immersive world of special and unique characters called SudBudz®.
Tags frogs