Pony Bead Alligator
Bead Crafts, Camp Crafts, Early Elementary Craft, Gifts to Make, More Boys Crafts, More School Crafts, parents, Reptile and Amphibian Crafts, teachers, Teen Crafts, VBS Australian Crafts, VBS Bayou Crafts, VBS Rainforest Crafts, Wild Animal Crafts
Now is the time to make some backpack accessories as school starts. This Pony Bead Alligator is just one of many pony bead projects that you can create and start a trend with all your friends.
trivia:
As an alligator's teeth are worn down, they are replaced. An alligator can go through 3,000 teeth in a lifetime. American alligators live about 50 years in the wild. Source: Smithsonian's National Zoo – AMERICAN ALLIGATOR
Supplies
2 Black Pony Beads
56 Green Pony Beads
29 Lime Green Pony Beads
Lanyard Hook
3 Yards Satin Cord
Instructions
Fold your cord in half to find the center.
Use a half hitch (see detail below) to secure it to lanyard hook.
Lace beads using photo as a guide.
Finish by tying off with a double knot.
Add a dab of glue on your knot and the half hitch attachment to the lanyard and let dry.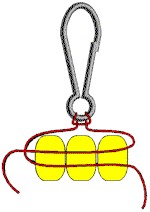 Supplies
Instructions
Contributor

Sudbudz
Want to have some creative family time? Print out our SudBudz® Masks and get crafty with the kiddos! More than just a typical Fizzy Bath Ball, SudPrize® is a first ever line of skin-loving and natural bath products that make bath time Fun for Kids and Easy for Moms. A Free companion App, SudBudz® engages your children into an immersive world of special and unique characters called SudBudz®.
Tags Alligator crafts