Baby Food Jar Animals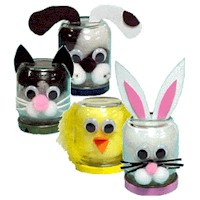 Start the new year using recycled items for craft projects like these Baby Food Jar Animals. They're cute and easy! This idea comes from Lisa of Anniston, Alabama.
Supplies
Baby Food Jars
Scraps of Craft Foam
Tacky Glue or Low Temp Glue Gun
Pompoms
Cotton (for white animals)
Feathers (for bird)
10mm Wiggle Eyes
Plastic Lace for whiskers
Scissors
Instructions
Clean baby food jar. Remove label.
Fill with pompoms to match your animal's face. Put the lid on and turn it upside down.
Glue on wiggle eyes.
Cut ears (or beak) out of foam and glue in place.
Add pompoms if desired.
For whiskers, cut pieces of craft lace and glue one end under pompom nose.
Cut a strip of craft foam 1/4" wide and glue around edge of lid.
Contributor

Terri Bose of MakingFriends.com
Terri is the creator of makingfriends.com, freekidscrafts.com, scoutswaps.com and badginabag.com. Her work is republished all over the internet and is considered the queen of kids crafts.