Cast A Paper Valentine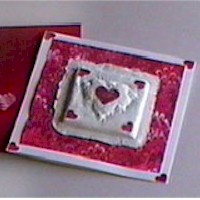 Just as the Chinese did long ago, it's possible to Cast A Paper Valentine from common materials. You can create a special valentine for someone by recycling paper. We'll cast tissue gift wrap in cookie and candy molds to make a low-relief heart for a one-of-a-kind greeting card. Making valentines this way is fun, and if you recycle materials, you'll help save landfill space, natural resources, and the energy needed to make new goods.
Supplies
Water
Sponge
Cooking spray
Tissue gift wrap
Cookie or candy molds
Instructions
Working near a sink or other water source, lightly spray a cookie or candy mold with cooking spray and set it aside. This will make it easier to release the paper form later. Tear a sheet of white tissue gift wrap into tiny pieces. Place the tissue pieces, one at a time, into the mold, overlapping the edges and patting a small amount of water on the pieces as you go.
Continue adding, wetting, and gently pressing layers until the mold is filled to the top with paper. If you want the valentine to have a deckled edge, add some layers around the top of the mold. Carefully remove excess water with a sponge, and replace any bits of tissue which are removed in the process. Let the casting dry in the air for a day or two. If it starts to warp, cover the form with a sheet of wax paper and weight it with a book. When the sculpture is completely dry, carefully pry the paper from the mold with the blade of a very thin knife.
A drying tip: To help speed the drying time, you can use a terra cotta mold which is specially designed for paper casting. Because they're made of fired clay, the molds can be placed in a microwave oven, allowing you to dry the paper in just a few minutes. Follow the manufacturer's instructions, and be sure to have an adult help if you dry the casting this way.
After the cast paper dries, it will be fragile and tend to "flake" like a biscuit. This is because we didn't use any binder in the pulp. Carefully painting the form with acrylics will act as a glue and color the surface as well. If you prefer not to paint the cast paper, you can brush a light coat of diluted white glue or acrylic matte medium over the form to help hold it together.
Decorating Your Valentine
While there are many ways to finish your card, you can learn how to make a valentine using collage. With this art form, decorative papers and materials are combined by pasting or gluing.
For a complete lesson plan using this craft go to The Imagination Factory Lesson 42 and see how they decorated their Valentine and made a custom envelope to match.
Contributor

The Imagination Factory
Listed by the American Library Association as one of the best online resources for kids, The Imagination Factory shows visitors how to make art using materials most people throw away. Some of the activities include drawing, painting, sculpture, collage, papier-mâché, marbling and crafts, and a special section for holiday art and crafts is featured. A Trash Matcher helps visitors find appropriate art activities for the solid waste they have available, and a feature called the Badge Matcher allows Brownies, Girl Scouts and their leaders to quickly locate art activities that help satisfy badge requirements.