Mr. Monster Cardboard Tube Craft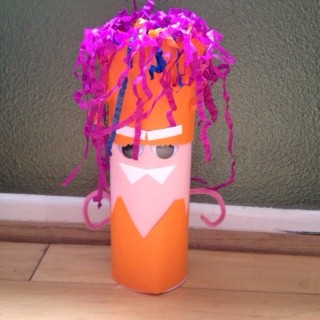 Kristina from Newhall, California submitted her Mr. Monster Cardboard Tube Craft to the FreeKidsCraft Contest and is our latest winner.
Supplies
Construction Paper, two different colors
Wiggle Eyes
Tape, Glue or Glue Dots
Scissors
Confetti
Pipe Cleaner
Instructions
Roll a piece of Colored Paper , This would be its mouth/Face
Take 2 Strips of different colored paper. Take a strip of paper and cut upside down triangles and then tape it around the bottom. Take the other strip of paper and tape it around the top
Then Take 2 big googley eyes and glue them a little bit under the top strip and wait 4 min to dry
Cut out teeth and eyebrows and glue , let dry for 2 min
Now take a pipe cleaner for the arms and cut it in half and bend them to make your desired shape
Glue or tape the arms to the side and if you glue wait 15 min
Now for the last and funnest part , Take some confetti of your choice of color and stick in threw the top and let it hang
Now you have created a Mr.Monster of your own!
Contributor

FreeKidsCrafts Contest Winner
IT'S A WINNER! Take a look at what one of our talented viewers submitted to share with you. This craft was selected as one of this month's winners to received $50 in craft supplies. Click here to find out how you can enter your original creation for our judges consideration.