Fun Stamps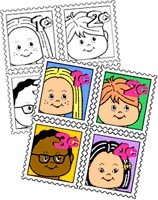 Have the kids create and send some fun mail with these Fun Stamps that they create with their own home made sticker glue. You can use this recipe for lots of fun future crafts. We have supplied the crafts in color and black and white.
Supplies
Stamps to Print in Color or
Outline Stamps to Color
Spray Fixative
Crayons or Color Pencils
White Paper
Licky Sticker Glue (see recipe)
Foam Brush
Scissors
Sewing Machine (optional)
Instructions
Print stamps. If using an inkjet printer for the colored stamps, spray both sides with fixative. Let dry. If using the outline version, color with pencils or crayons. If you color with markers, you'll have to spray both sides with a fixative to keep the color from running. Cut stamps into sheets of four.
You can perforate your stamps using a sewing machine with no thread.
Mix up a batch of licky sticker glue using the recipe print out below. Spread glue on the back of your stamps. Let dry. Spread another layer. Let dry. If stamps curl, weigh them done with some books to flatten.
To use your "stamps" cut or tear them apart. Lick the back or use a damp sponge. Press down on your envelope.
Patterns, Templates and Printables
Click on a pattern to open it in a new window
Tags easy kids crafts