Time Capsule
New Years is a great time to remember all the exciting events of the past year. Have each member of the family write down something unique that happened in the past year and put it in your own time capsule along with photos to be opened in the future.
Supplies
Clean, Empty Coffee Can
Decorative Paper
Index Stock
Time Capsule Print Out
Instructions
Cover the coffee can with index paper to give you a smooth working surface.
Cover and decorate your can with decorative paper. We had some shiny book covers left over from Back-to-School. You can also use wrapping paper, scrapbook paper, aluminum foil... anything. Click on Printables and use the Time Capsule Print Out or make your own.
Fill with interesting things like photographs, trading cards, a cassette you recorded, finished homework, drawings, information about you and your family, happy meal toys, your favorite recipe or anything you think someone in the future might be interested in.
This craft is reprinted courtesy of Terri Bose of MakingFriends.com where you will find great ideas for families and scout troops.
Patterns, Templates and Printables
Click on a pattern to open it in a new window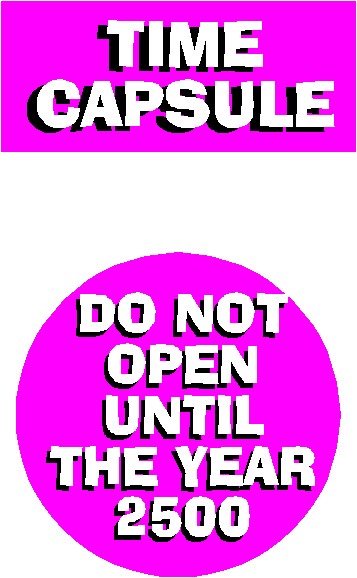 Contributor

Terri Bose of MakingFriends.com
Terri is the creator of makingfriends.com, freekidscrafts.com, scoutswaps.com and badginabag.com. Her work is republished all over the internet and is considered the queen of kids crafts.