Loopy Christmas Tree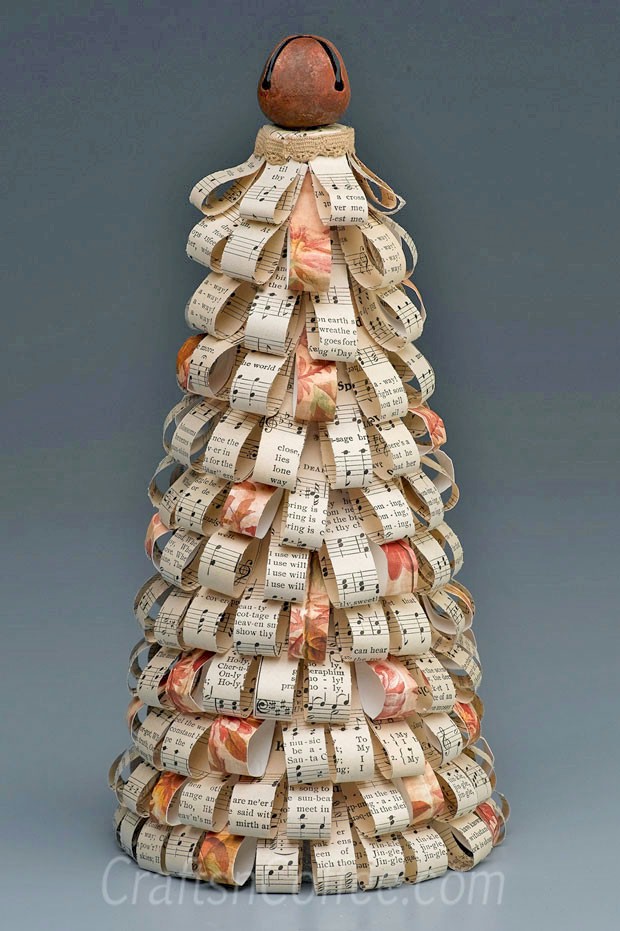 Over the years so many different kinds of Christmas trees have been designed. This beautiful Loopy Christmas Tree will make a great addition to the annual collection that is made by members of the family and put on display . Get everyone involved.
Trivia: Did you know that long before the advent of Christianity, plants and trees that remained green all year had a special meaning for people in the winter. Just as people today decorate their homes during the festive season with pine, spruce, and fir trees, ancient peoples hung evergreen boughs over their doors and windows. In many countries it was believed that evergreens would keep away witches, ghosts, evil spirits, and illness. History of Christmas Trees -History.com
Supplies
STYROFOAM™ Brand Foam: 9" x 4" cone
Papers: Vintage-style sheet music; patterned papers
Beading pins, ¾"
Braid, ribbon or other trim, 6" length
Large jingle bell
Thick, white craft glue
Tools needed: Scissors
Instructions
1. Cut the sheet music and patterned papers into 4" x ½" strips. The pictured tree is a mix of paper strips was about 2/3 – ¾ vintage sheet music, and the rest cut from the patterned papers design yours however you like.
Bring together the ends of a paper strip, forming a loop. Starting at the bottom of the cone, pin the loop to the cone. Continue pinning paper loops all around the bottom of the cone. Mix up the assorted papers as you go.
3. Start the second row, pinning on the loops so that they are offset from the first row, and cover the pins below.
4. Continue pinning on rows of loops till the cone is covered. For the last row, fold over the loops and pin the ends to the top.
5. Pin and glue the trim around the top of the cone.
6. Glue the jingle bell to the top.
Contributor


STYROFOAM™ Brand Foam is widely available in the United States, Canada and Puerto Rico.
Please visit Michaels, Jo-Ann Stores, Inc., Hobby Lobby, Walmart, A.C. Moore to find the store nearest you carrying genuine STYROFOAM Brand Foam.Visit us at http://www.styrofoamcrafts.com
Supplies
Instructions
Contributor

Sudbudz
Want to have some creative family time? Print out our SudBudz® Masks and get crafty with the kiddos! More than just a typical Fizzy Bath Ball, SudPrize® is a first ever line of skin-loving and natural bath products that make bath time Fun for Kids and Easy for Moms. A Free companion App, SudBudz® engages your children into an immersive world of special and unique characters called SudBudz®.