Plaster Bookends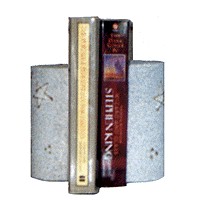 This craft repritned courtesy of Terri of MakingFriends.com.
A terrific gift for Dad or anyone in the family. Don't forget to make a set for yourself! 
Supplies
2 Round Cardboard Containers with lids (Oatmeal, Stuffing, or Bread Crumb Containers Work Well)
Plaster of Paris
Masking Tape
Disposable Mixing Bucket
Sponge
Paint
Instructions
Make sure containers are clean. Mix a large batch of plaster of paris according to the directions on the package. Pour into both containers, filling about 3/4 of the way. Place lid securely in place and tape around edges. Lay both containers on their side in an out-of-the-way place where they won't be disturbed or roll around. Let dry overnight.

Peel cardboard from plaster. Smooth imperfections with a damp sponge. Let dry for at least a day before painting.
Contributor

Terri Bose of MakingFriends.com
Terri is the creator of makingfriends.com, freekidscrafts.com, scoutswaps.com and badginabag.com. Her work is republished all over the internet and is considered the queen of kids crafts.