Recycled Mailbox Project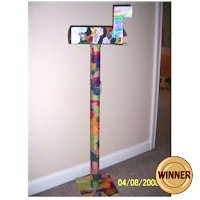 This month's contest winner is Melissa Pinto, a stay at home Mom who loves to do crafts with her girls.
She writes, "My girls (3 1/2 & 6 1/2 years old)  love to get mail and check the mailbox everyday (even on Sundays), so I decided that we would make mailbox for outside their bedrooms.  This way they can send each other letters and I can leave them notes too."
What fun to set up your own personal mailbox and decorate it any way you want to.
Supplies
Piece of wood (8 x 8 1/2)
Gift wrap cardboard tube
Box for the mail
Craft foam
Brad
Hot glue
Elmer's glue
Tissue paper
Washable paint
Instructions
Sand the wood with sand paper for the base.
Brush glue to the surface of the base and then put different sized squares of tissue paper on it and as that is drying started to decorate the pole with tissue paper too.
Paint the boxes and flag.
Once all is dry, hot glue the base to the pole and the pole to the box. Use a single hole punch to attach the flag to the side of the mailbox using a brad.
The girls know they have mail when their flag is up.  They love getting and sending mail to each other.  And they love getting mail from me.  My younger daughter can't wait to take it in for show & tell.  She is making boXes for her classmates and is going to be the "Mail lady".
Contributor

FreeKidsCrafts Contest Winner
IT'S A WINNER! Take a look at what one of our talented viewers submitted to share with you. This craft was selected as one of this month's winners to received $50 in craft supplies. Click here to find out how you can enter your original creation for our judges consideration.