Recycled Scissors Holder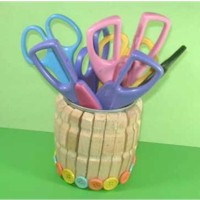 This Recycled Scissors Holder is an inexpensive craft that kids can make with a recycled (rinsed) can, clothes pins and buttons.Turn them into a very useful Mother's Day gift or something for yourself. Made from things you have at home!
Supplies
11 Clothes pins*
1 Recycled metal can
Textile Glue or Glue Gun
16 Colored buttons*
*amount depends on the can use
Instructions
Peal off the label from the can.
Separate the clothes pins.
Glue the clothes pins to the can.
Glue the buttons to the bottom of the can.
Contributor

SimpleKidsCrafts.com
Daily, easy, functional and beautiful Arts and Crafts projects on video for children of
all ages.
Tags useful gifts