Mother's Day Desk Set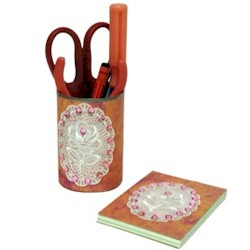 Mom will be proud to display this beautiful desk set all year long. A gift made with love for someone you love.
Supplies
Flower Applique
Pink Rhinestones
Low Temp Glue Gun
Scissors
Lightweight Cardboard
Small Pad of Paper
Tin Can
Scrapbook Card Stock
Exacto Knife and Adult, Ruler
Instructions
Cover a tin can with any kind of patterned paper. Glue to hold and cut off the extra.
Add a flower applique to the front and glue rhinestones around the flower applique.
Make a cover for the paper pad by wrapping the scrapbook cardstock around the pad completely covering the front and back.
Pinch at folds to mark. Remove and fold on the pinches.
Place the pad back inside.
Trim paper all around to size.
Glue the back of the pad to the inside of the cover.
Glue the flower applique to the front and decorate with rhinestones.
This craft reprinted courtesy of MakingFriends.com where you will find many more craft ideas and supplies.
Contributor

Terri Bose of MakingFriends.com
Terri is the creator of makingfriends.com, freekidscrafts.com, scoutswaps.com and badginabag.com. Her work is republished all over the internet and is considered the queen of kids crafts.