Patriotic Ornament Craft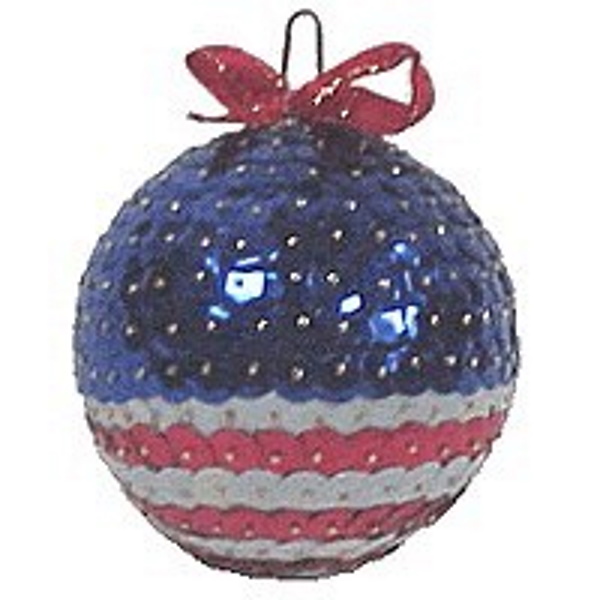 If you are planning to give handmade Christmas ornaments as gifts or to decorate trees to honor the men and women in military service, get started now. This ornament is a perfect gift to make for any veteran or service person for any occasion or to add to your own collection. Recommended for ages 12 and up.
Trivia:
Thomas Edison's assistants came up with the idea of electric lights for Christmas trees. Source: History – History of Christmas Trees
Supplies
2-1/2″ Styrofoam Ball
Approximately 200 Blue Sequins
Approximately 100 Red Sequins
Approximately 100 White Sequins
Sequin Pins
Small Ribbon Bow
Tacky Glue
Hair Pin
Thin Rubber Band
Instructions
Push a hair pin half way in on the top of the ball. This will be the hanger.
Place a thin rubber band around the middle of the Styrofoam ball.
Squeeze some tacky glue out on a piece of wax paper. Pick up a white sequin with a pin and scoop up some glue with the tip of the pin. Press into the Styrofoam ball right beneath the rubber band. Continue adding pins with white sequins all around the ball completely covering the rubber band.
Beneath add a row of red, then white, alternating until the bottom is covered.
Do the top in blue in the same manner. Working around the hair pin hanger.

Supplies
Instructions
Contributor

Sudbudz
Want to have some creative family time? Print out our SudBudz® Masks and get crafty with the kiddos! More than just a typical Fizzy Bath Ball, SudPrize® is a first ever line of skin-loving and natural bath products that make bath time Fun for Kids and Easy for Moms. A Free companion App, SudBudz® engages your children into an immersive world of special and unique characters called SudBudz®.