Santa Yarn Bug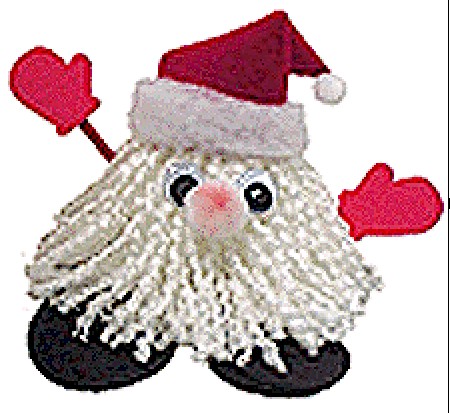 Our jolly Santa Yarn Bug makes a terrific package topper or a nice little gift for someone special. You can also make them as place cards that people can take home as a memento from their Christmas feast.
Trivia:
Santa's story dates back to 280 A.D. in what today would be Turkey. Saint Nicholas was a monk who traveled the countryside to assist the poor and sick. Source: The Daily Mail – Jolly Facts You Didn't Know About Santa Claus
Supplies
White Yarn
Black Craft Foam
Red Craft Foam
Red Felt
Wiggle Eyes — 20mm
2-1/2″ Styrofoam Ball
Red Pipe Cleaner
5″ Square of Cardboard
Tacky Glue and Clothespins.
Scissors
White cotton Batting
3/8″ White Pompom
5/8″ White Pompom
Blush
Instructions
Make a pompom by wrapping yarn around a 5″ piece of cardboard at least 100 times.  Cut a 6″ piece of yarn and slide it under wrapped yarn. Tie tightly into a double knot. Turn cardboard over and cut completely through yarn on this side. Turn yarn blob sideways and smooth down strands.
Press Styrofoam ball onto a hard surface to flatten bottom. (You can also use an egg carton section.) Cover the top and sides of the ball with tacky glue. Separate the strands of the pompom to fit the Styrofoam ball up inside. Press pompon into place. Arrange yarn.
Print any patterns your bug might need. Staple all around patterns onto craft foam or felt as listed in the supply list. Cut out pieces.
Glue the bottom of the Styrofoam ball on to the foam feet.
For optional arms, cut the pipe cleaner in half. Glue on hands. Poke the pipe cleaners into the bug for arms. Bend at the elbows.
Glue on the wiggle eyes.
Roll the hat into a cone. Glue. Use clothespins to hold it until dry. Cut a 3/4″ strip of cotton batting and glue around the base of the hat. Glue a pompom onto the point. Fold hat point down and glue. Glue it to the top of the yarn bug.
Glue on pompom nose.
Apply a little blush to the nose.

Supplies
Instructions
Contributor

Sudbudz
Want to have some creative family time? Print out our SudBudz® Masks and get crafty with the kiddos! More than just a typical Fizzy Bath Ball, SudPrize® is a first ever line of skin-loving and natural bath products that make bath time Fun for Kids and Easy for Moms. A Free companion App, SudBudz® engages your children into an immersive world of special and unique characters called SudBudz®.
Tags yarn bugs