Mobile Valentine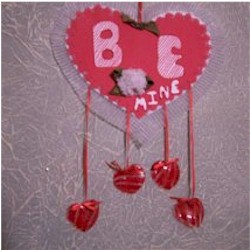 Our newest contest winner is Ann Winberg who has a blog called Cabin Annie's. Ann, a grandmother and crafter considers herself a free spirit . She retired and living on a lake leading a very laidback life which lends her all the time in the world to devote to her hobbies. Visit her at http://cabinfevergems.com.
Supplies
Clear soda bottle
Heavy scissors
Sharpie blk and red
Hot glue
Tacky glue
48" of 1/8" red ribbon
1 sheet red card stock
1 sheet white card stock
½ yd. white 1 ½" lace flat lace
½ yd. 2" white lace for flower
Scraps for leaves or purchased leaves
Paper punch
Instructions
Print the 'ribbon placement' photo for a pattern or draw your own heart; trace the pattern on both of your card stock sheets.  Cut out and glue your lace around the white one with your tacky glue leaving part extending out over the edge, gather at the corners and the top point.  Cut your ribbon into 4 lengths; tape your ribbon strands evenly, the length you make them is up to you.  Make a loop for hanging your mobile. Use decorative scissors and cut out your red heart.  Using your hot glue make a line around the back just inside your decorative holes and quickly place it over your lace.
Using a soda bottle for the small hearts make them puffed looking after you paint them. Make a heart pattern small enough that you can cut 4 from your soda bottle; or whatever size you want and use 2 bottles. My bottle was grooved and I used a red sharpie to color in-between the grooves.  Punch a hole in the center just below the point. Paint as wanted.
After they are dry bring your ribbon through the hole and tie a bow. Repeat with each heart. 
I drew my letters freehand but you could use templates if you wish. Glue the letters in place.
For the flower I used two inch ribbon folded in half lengthwise; gather along the two edges then tightly roll from one end and as you roll stitch the bottom edge together. Make sure it is securely stitched or it will pop apart. Decide on placement and using hot glue attach your leaves then glue your flower in the center. Glue some of the outside ribbon back to the cardstock to make the flower open up. You could use a bought flower just as well.
After I got my letters glued on the hearts I decided I would rather have had them on the bottom of the large heart on the ribbon so I popped them off and moved them. If you use tacky glue they will pop right off but will stay in place until you want them off leaving no residue.
Enjoy.
Contributor

FreeKidsCrafts Contest Winner
IT'S A WINNER! Take a look at what one of our talented viewers submitted to share with you. This craft was selected as one of this month's winners to received $50 in craft supplies. Click here to find out how you can enter your original creation for our judges consideration.