Kwanzaa Placemat Craft
African Crafts, Early Elementary Craft, Felt and Foam Crafts, Kwanzaa Crafts, librarians, More School Crafts, parents, PreSchool Crafts, teachers, Teen Crafts, Weaving Crafts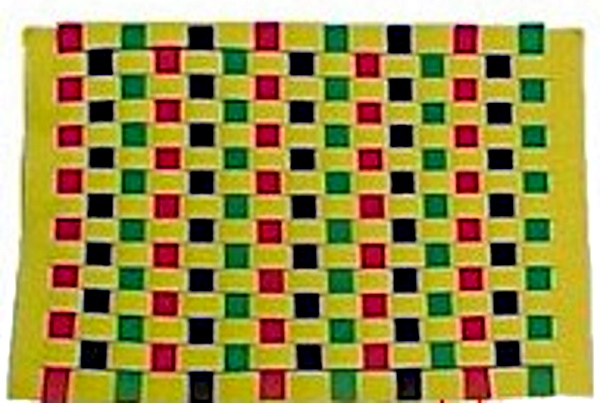 Make this colorful Kwanzaa Placemat for your holiday celebration. Kwanzaa is a celebration of family, culture and community. Great project for learning the beginning principals of weaving. Kids can make one for themselves and encourage their family to join in the fun.
Trivia:
Weaving is acknowledged as one of the oldest surviving crafts in the world. The tradition of weaving traces back to Neolithic times – approximately 12,000 years ago. Even before the actual process of weaving was discovered, the basic principle of weaving was applied to interlace branches and twigs to create fences, shelters and baskets for protection. Source: Weave Design – Weaving History
Supplies
12″ x 18″ Piece of Yellow Craft Foam
9″ x 12″ Craft Foam: Red, Black and Green
Tacky Glue or Glue Dots
Scissors
Instructions
Mark off 1″ from both ends of the 12″ x 18″ craft foam sheet and cut a lengthwise slit every inch being careful to end slits at the 1″ mark.
Cut black, red and green foam stock into 1″ x 12′ strips.
Weave strips in through the slits alternating each row.
Secure ends with glue or glue dots.

Supplies
Instructions
Contributor

Terri Bose of MakingFriends.com
Terri is the creator of makingfriends.com, freekidscrafts.com, scoutswaps.com and badginabag.com. Her work is republished all over the internet and is considered the queen of kids crafts.