Jesters Hat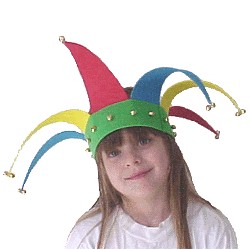 Making your hat for Mardi Gras? Make it in purple, green and yellow foam and join the celebration.
Supplies
Jester Hat Pattern
4 pieces of Craft Foam:
   Purple, Green & Yellow 
Low Temp Glue Gun
36 Jingle Bells - 3/8"
Scissors
Stapler
Instructions
Cut a piece of craft foam into a 3" strips. Glue together using a low temp glue gun until you have enough to fit around the child's head.
Click on Printables and print 8 pages of the Jester Hat Pattern. Staple to foam around edges and cut out.
Glue each piece to the top inside edge of the foam crown.
Glue two jingle bells on each point.
Glue jingle bells all around the crown.
Patterns, Templates and Printables
Click on a pattern to open it in a new window

Contributor

Terri Bose of MakingFriends.com
Terri is the creator of makingfriends.com, freekidscrafts.com, scoutswaps.com and badginabag.com. Her work is republished all over the internet and is considered the queen of kids crafts.