Pizza Costume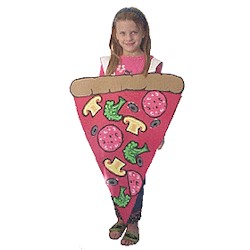 Trick or Treating is even more fun when the kids get into the act of creating their own costumes. This costume is easy to get into and out of when Trick or Treating is over.
Supplies
Six Broccoli Pages
Three Mushrooms Pages
Three Pepperoni Pages
Two Olive Pages
2 Pieces of Red Poster Board
Cardboard (for crust)
1 Yard 2" Ribbon
Scissors
Glue
Yardstick
Pencil
Hot Glue
Instructions
Click on Printables and print six broccoli pages, three mushrooms pages, three pepperoni pages, two olive pages. Cut out all pieces.
Cut the posterboard into a large triangle. Cut cardboard into a crust shape. Glue crust and toppings on posterboard triangles. Cut ribbon in half. Glue ribbon to top back of both pieces of pizza to fit comfortably over the child's shoulders.
This craft was designed by Carrie of Phoenix, Arizona and is reprinted courtesy of Terri Bose of MakingFriends.com where you will find many other costume ideas.
Patterns, Templates and Printables
Click on a pattern to open it in a new window