Hanging Beach Art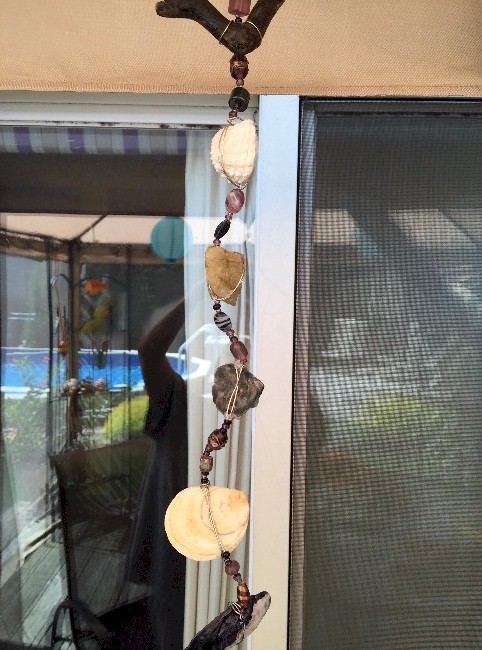 This Hanging Beach Art was created by Robbin Swartz who is a teacher from Phoenix, Arizona. Her art is influenced by her childhood spent on Long Island beaches. Collect all kinds of beach stones, shells and driftwood and create your own one of a kind piece of art.
Supplies
Craft Wire
Beach items like shells, beach glass, stones, driftwood, etc.
Beads
Instructions
This hanging sculpture will be unique to the items that you collect from the beach. It is probably a good idea to start with a piece of driftwood to  anchor your piece.
This art piece is made by wrapping craft wire around the larger elements. We started with a piece of driftwood to anchor the art. Add a few beads and then a larger item like a shell or beach glass or a rock winding the wire around to hold it in place.
Use the picture for a general idea.
We ended our hanging sculpture with another piece of driftwood. Add beads and pass the wire back through the hole securing the larger pieces and inserting the wire through the beads.
When you get back to the top piece of driftwood, wrap the wire around the anchor piece and wind together
Hang your art piece in a favorite corner or give to a friend in memory of a good time together.
Contributor

FreeKidsCrafts Contest Winner
IT'S A WINNER! Take a look at what one of our talented viewers submitted to share with you. This craft was selected as one of this month's winners to received $50 in craft supplies. Click here to find out how you can enter your original creation for our judges consideration.
Tags beach crafts