Bow Tie Butterflies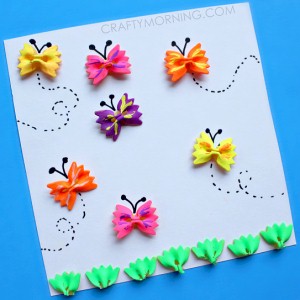 You probably have most of the supplies on hand to make these Bow Tie Butterflies. It's amazing what you can turn into craft materials.
Supplies
Small bow-tie noodles
Chalk markers or paint
Newspaper
White paper
Black sharpie
Glue
Instructions
Always start by covering your work surface with newspaper to protect it.
Start by painting your little noodles with bright fun colors and let dry. These chalk markers dry pretty fast so it's perfect for this craft!
For the grass, carefully cut the noodles in half and paint them green. Glue them all to a piece of white card stock paper.
Add sharpie antennas and dots behind them so it looks like they're flying!
Contributor

SassyDealz.com
"Michelle has a teaching degree and for the love of art she started sharing kids crafts on her blog to inspire teachers, parents, and the little ones! SassyDealz.com is not only a craft website, but also a place where you can find online bargains and freebies!"