Handmade Hanukkah Card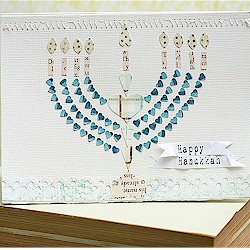 This beautiful Hanukkah Card was made with special punches, but you can also use it as a reference and a starting point to create your own unique handcut card.
Supplies
6 1/4 x 9 1/2 inch cardstock
Pencil
Double Bubble Border Punch
That's Amore Squeeze Punch
1/4 Heart Hand Punch
Patterned Paper
Perfect Pear Squeeze Punch
Instructions
1. Fold a piece of 6.25 inch x 9 1/2 inch cardstock in half. Mark the center of the card along the top and bottom edges and lightly pencil a line connecting them.
 
2. Using the Double Bubble Border Punch, punch patterned paper and adhere it to the bottom edge.
3. From various patterned papers, punch two hearts using the That's Amore Squeeze Punch and 3 hearts using the Heart Lever punch. Create the branch for the shamash using the pencil line as placement for the hearts.
 
4. Punch lots of small shapes to create the 8 remaining branches of the Menorah. I used hearts that I punched using the Heart Corner Lever Punch. You could also use the Heart hand Punch or even use circles.
5. Cut a 1/8 inch strip of paper using a Fiskars paper trimmer and cut nine 1/2 inch candles from it.
6. To easily create flames, use an inverted heart punched using the Heart Lever Punch for the shamash and the leaf from the Perfect Pear Squeeze Punch for the remaining 8 candles.
7. Run a zig-zag stitch across the top of front if desired.
8. Print out a sentiment and add it to the front of the card to finish it.
Contributor

FISKARS
You can read creative and compelling articles by industry experts and get great new project ideas in the areas of home decorating, kids crafts, party invitations, scrapbooking, sewing, quilting, and more! In addition, fiskarscrafts.com will feature how-to videos on some of Fiskars' coolest products, offer live online customer service, and have a crafting message board.