Footprint Christmas Tree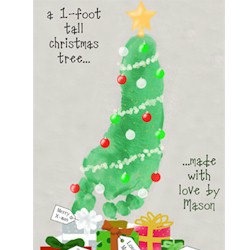 This Footprint Christmas Tree will make a wonderful piece of framed art for a proud grandparent or a delightful package decoration that you will want to be sure to save.
Supplies
Heavy Stiff Paper like Watercolor Paper
Water Based Non Toxic Paint
Markers or Paints and Paintbrush
Paper Plate
Newspapers
Instructions
It is always smart to do a couple of test prints on scrap paper before making the final print.
Spread newspapers to protect the area and pour paint on a paper plate or cardboard and place child's foot firmly into the paint. Don't over fill the paint, but just enough to coat the foot area adequately.
Firmly press the foot onto the paper. Once you are happy with the print, let it dry and then decide how you want to embellish it. 
If you are knowledgeable about computer art programs you may want to scan the finished print and then add the embellishments by computer, otherwise put on your artist's hat and make it as complex or as simple as you like.
You can scan or make color copies so that it can be turned into Christmas cards or make it one of a kind to be framed for the grandparent's to treasure for years to come.
This craft is reprinted courtesy of Kidideas.com.
Contributor

Kideas
At Kideas, you'll find crafts, recipes, party ideas, and activities for children of all ages. Everything on the site is 100% free for use by parents, teachers, scout leaders, and child care providers.