Paint Chip Countdown to Christmas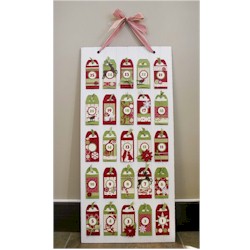 Colorful Countdown to Christmas advent calendar.  Activity ideas are inserted into each pocket to help spread the joy throughout the month. A die cut machine was used for this project, but you can be creative and create your own design.
Supplies
Let Lifestyle Crafts help you count down the days until Die Cut machine
Variety of dies
Adhesive
Cardboard or hard backing
Ribbon
Instructions
Use the Coin Envelope die for the pockets and embellish each day with 'Be Splendid' dies!
 
The number labels are made with Nesting Eyelet Circles, Nesting Circles, and the Tiki Alphabet.
 
Inside each pocket is a Christmas activity for the family.  Use the Nesting Frame 2 die to make these. They fit perfectly inside the Coin Envelope die.
Here's our list of activites...but feel free to make your own!
Make Christmas treats and take some to a neighbor
Bake gingerbread cookies. Be sure to make extra for family and friends
Make a kid-friendly Christmas craft
Make hand print ball ornaments, label them and put the year
Make paper snowflakes for the windows
This craft is reprinted courtesy of FaveCrafts.com.
Build a gingerbread house
Put up indoor Christmas decorations
Put up the Christmas lights on the house
Make homemade ornaments
Make scented pinecones
Go sledding
Buy a Christmas gift for a needy family
Build a snowman
Clean out old toys and clothes to donate
Do a family service project
Visit grandparents
Go shopping, have the kids buy gifts for their friends, come home and wrap!
Go ice skating
See the Christmas lights at the park
Drive around the neighborhood together and look at Christmas lights
Take food to the local food pantry or homeless shelter
Read the Christmas story from the Bible
Pop popcorn and watch a Christmas movie together
Make homemade fudge
You might also enjoy making one of these Advent projects:
Contributor
FaveCrafts.com
FaveCrafts is owned by Prime Publishing LLC, an Internet Media Company that operates web site communities, e-mail newsletters and e-commerce stores in niche areas such as crafting, home décor, wellness, and cooking. See their craft projects at https://www.favecrafts.com/