Mitten Ornament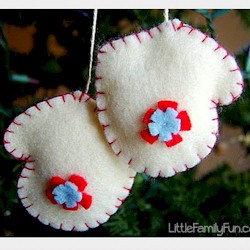 This is a great Christmas craft to introduce children to sewing and all the fun things that can be made and treasured. It also makes a special gift for grandparents.
Supplies
Felt
Needle and thread
Scissors
Batting (optional)
Instructions
1. Using felt (I LOVE FELT!), cut out 4 mittens of the same color. I made a pattern out of felt and use that to cut out 2 at a time. The dimensions of the mittens I've made are appx. 2.75" x 2.75". You can make them bigger or smaller!
2. Using felt, cut out circles of whatever color you want your flowers to be. I just cut the circles out freehand. They aren't perfect, but that's part of what makes them look cute and handmade.
3. Cut triangles out of your circle to make it look like a flower. You could round the edges more also if you like. I've kept mine straight.
4. Layer the flowers however you desire, and stitch them onto your mittens. I usually just do a single stitch, but sometimes have done a cross-stitch, or a french-knot.
5. Choose what color of thread you want to sew the mittens together with. I usually choose one of the colors of one of the flowers.
6. Using a blanket-stitch, stitch the 2 mittens together. (There are some good videos on YouTube of how to do a blanket stitch. It's very easy, and the videos are a good way to learn!)
7. (Optional) Leave an opening so that you can fill the mitten with a pinch of batting. OR you can just leave them flat. Both ways end up looking really cute.
8. Cut a piece of twine appx 8" long and tie knots on both ends. Then, place one knot inside the mitten and continue to blanket-stitch, securing it inside.

9. Repeat steps 5-7 with mitten #2, stitching the other end of the twine into the 2nd mitten.

And you are done!!
This project is reprinted courtesy of LittleFamilyFun.com where you will find lots of creative ideas for kids for Christmas.
Contributor

LittleFamilyFun.com
My name is Linda. I\'m a mom of 2 boys and a girl. I hope you find something in LittleFamilyFun.com that helps you have fun with the kids in your life.