Paper Plate Elf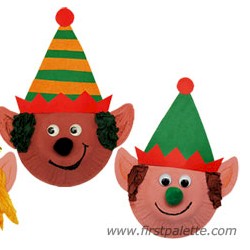 Paper Plates made a great starting point for so many different projects. These cute elves will provide a creative adventure for the kids this holiday season.
Supplies
Paper plates
Construction paper
Crepe paper
Any water-based paint
Paint brush
Crayons or markers
Scissors
White glue
Pompoms
Wiggle eyes
Sequins, glitter glue or rhinestones (optional)
Instructions
Obtain a paper plate to make your Christmas elf's head. Draw and cut out a pair of pointy elf ears out of construction paper or cardboard.

Glue or tape the ears on opposite sides of the paper plate.

Flip the paper plate so that the bottom side is facing up. Paint this side of the plate, including the ears with any water-based paint. Give your Christmas elf any skin coloring that you like. I made a light-colored skin tone by mixing a bit of brown to white paint. Set your painted plate aside to dry.

Using crayons or markers, draw a mouth and if you like, draw some lines to give the ears some detail.

Draw and cut out a triangle out of construction paper to make the elf's hat. Cut out a zigzag piece for the hat's bottom lining.

Glue the hat, including the zigzag lining on top of the elf's head. You can also cut out and glue a small circle at the tip of the hat.

Cut out short strips of crepe paper, crumple them up and glue them along the sides of the paper plate to make the elf's hair.

Allow the glue to dry before putting up your paper plate elf up as a cute Christmas décor.

More Ideas
Give your Christmas elf lots of character by making interesting facial expressions like this very sleepy elf. You can also play around with its hairstyle and decorate its hat with sequins, rhinestones or little bells.

Try making stripes on your elf's hat by gluing on strips of colored paper. Be creative and make a family of fun Christmas elves!
This craft has been reprinted courtesy of First Palette.com where you will find complete illustrated instructions.
Contributor

FirstPalette.com
A free resource for fun and educational kids' crafts, the site features a step-by-step guide for each craft project and includes printable templates, art recipes, and environment-friendly tips for crafting.