Santa Treat Holder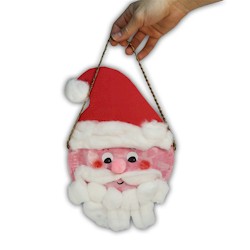 This treat bag is a great Christmas party activity. Children can make Santa's face and then take away a selection of Christmas treats in their creation.
Supplies
2 plain paper plates
red construction card or craft
foam.
cotton wool
glue
stapler
pink tissue (or pink paint)
ribbon/string
pink pom pom
Instructions
1. Brush a coat of glue over the back of one plate.

2. Layer the pink tissue all over the plate. Brush down each tissue piece
with more glue. Alternatively, paint the plate with pink acrylic.

3. Cut a hat shape from the red card and glue it to the top of the pink
plate.www.jellyfishjelly.com

4. Cut approximately 1/3 from the top of the other plate.

5. Staple the cut plate to the back of the face plate – so the top faces of
the plates are facing inwards.

6. Staple the ribbon or string to each side of the plates. Tie to secure.

7. Add Santa's face. Here I have used white sticky dots, a black marker and a pink pom pom.
This craft is reprinted courtesy of JellyfishJell-Creative Kids where you will find complete illustrated instructions.
Contributor

Jellyfish Jelly – Creative Kids
Jellyfishjelly is the work of Miya Maeda."My work is intended to be a simple guide for non-crafty, "creatively-challenged" parents.  The concept behind this site arose from what I perceived to be the near universal need for parents of small children to find novel and challenging activities to occupy what can sometimes seem like a very long day."